Holiday Special Exhibit
This year's special Christmas Holiday Exhibit was  A Collection of Collections. The exhibit showcases Holiday Collectible Series, like this Breyer model horse.
 2017 Holiday Teas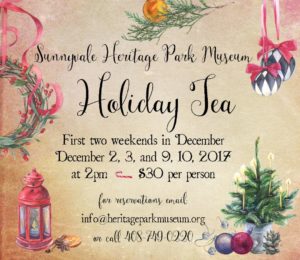 Our formal, Victorian Teas were on December 2, 3, 9, and 10 this year.  Thank you to all who attended and to those who volunteered to make this another success!
Sister City Visitors
On November 7th, it was our great pleasure to host the dignitaries from Sunnyvale's Sister City: Iizuka, Japan. Here is Sunnyvale Mayor Hendricks, Iizuka Mayor Katamine, and the rest of the contingent outside the museum.
April-October Ibarra Special Exhibit
For half the year, we enjoyed the photos of Gabriel Ibarra, architectural historical photographer, whose images capture the heart of Silicon Valley.  Click Here for more views of this exhibit.
Fall General Meeting – Monday, October 9, 2017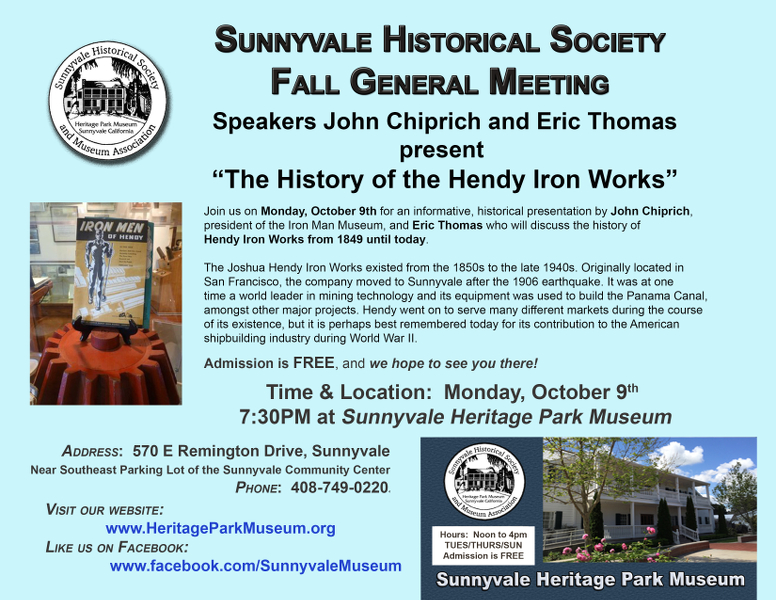 Local TV show features the Museum
Click to play the full episode.

Sewing Machine Mini-Exhibit
In honor of National Sewing Machine Day, June 13, 2017, we had a special mini exhibit in the museum lobby of sewing machines from our archive collection!
June 25, 2017 – Orchardists Recognition Event
Click Here for photos from our special event,  the unveiling of the new panels commemorating Sunnyvale's early Yugoslav orchardists.
June 12, 2017 –  General Meeting
Our guest speaker was Alan Leventhal, a professor at San José State University and archaeologist, anthropologist and ethnohistorian who has worked with the Muwekma Ohlone Tribe for the past 37 years. He discussed the tribe's many ties to the Bay Area. Click Here for photos and a video recording of the talk.
2017 Spring Garage Sale
May 6, 2017 was our spring Garage Sale.
Thank you to everyone who donated items, volunteered to work, and came to shop!
Spring Tea – April 29 & 30, 2017
Volunteer Fire Department Display at the Library
2017 Women's History Month Exhibit
For the month of March, we had a special mini-exhibit in the upstairs hallway to commemorate Women's History in Sunnyvale.  Here is a painting called "Teatime Memories" by Alice Freund.  This piece was created in honor of Sunnyvale's 75th anniversary in 1987.  Click on the photo to learn more!
January – March 2017 – Chinese art from "Snow White Bubble Gum Cards"  Art cards and posters from children's literature.
2017 Presidents' Day Exhibit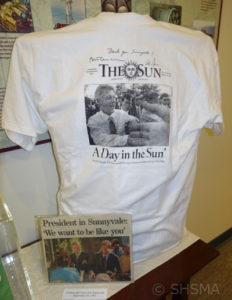 For the month of February, we had a special mini-exhibit in the upstairs hallway to commemorate Presidents' Day in Sunnyvale.  Click here for more photos.
February 13, 2017 –  General Meeting
At our general meeting Monday, February 13, Kristin Dance, who works for the City of Sunnyvale, gave a presentation on the public art in Sunnyvale.
Copyright © 2017 Sunnyvale Historical Society & Museum Association, Inc., All Rights Reserved