Our Museum Store is more than a gift shop, we sell artwork, vintage household decor, historical reference books and other items of interest to history buffs! The museum store is open year-round during normal museum operating hours:   Tuesdays, Thursdays, and Sundays from noon to 4pm.  Remember that all purchases go to support the daily operations of our museum.  There is a 10% discount for museum members (click here for membership information.)
Our inventory is constantly changing, so come by and see what new items we have available for that birthday, special occasion, or holiday gift.
Here are some of the local interest books we carry:
Sunnyvale, the latest book in the Arcadia "Images of America" series, has been released. It encompasses all of Sunnyvale's rich history, with never before seen vintage photographs and outstanding text written by Sunnyvale natives Ben Koning and Anneke Metz.
California Apricots – The Lost Orchards of Silicon Valley, by local author Robin Chapman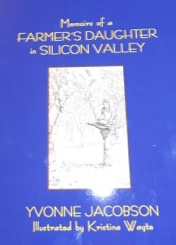 Memoirs of a Farmer's Daughter in Silicon Valley
by Yvonne Jacobson
Here are some store highlights of past seasonal items.
Copyright © 2018 Sunnyvale Historical Society & Museum Association, Inc., All Rights Reserved