November 2019 – February 2020 Special Exhibit – Wedding Finery throughout the Decades
This holiday exhibit featured wedding and bridal party dresses from the past as well as items related to such a celebration: invitations, veils, photographs, jewelry, and much more. The time period for the items on display is mid-1800s to 1968.
October 14, 2019 – General Meeting

September 28, 2019 – Anniversary Celebration
Summer – Fall 2019 Special Exhibit – Historic Downtown Sunnyvale
A look at Sunnyvale from "Murphy's Station" to the Fifties.
In the horse-and-buggy days of the 1860s settlement known at the time as Murphy's Station, Main Street (now Murphy Avenue) was a dirt road leading to the railroad stop. the first store held windows for the post office, the drugstore, and the general store, respectively.
The museum's new exhibit includes a series of photographs and maps depicting the slow growth and development of the early downtown, as well as artifacts from the first businesses lining Main Street and the railroad tracks. The display shows tools from the first veterinary office, the first morgue services, items from Del Monte's cannery, Ryan's Hotel, Tao Tao's, the Kirkish store, and much more.
June 10, 2019 – General Meeting
California's Historic El Camino Real Bells
After the business section of the General Meeting, our guest speaker, John Kolstad, gave a talk on the history of El Camino Real, as well as the history of the bells, how the bells are made, and the fascinating story of how the California Bell Company (originally founded in the 1900s) was brought back to life. The plan had been to place one bell along each mile of the highway called El Camino Real, in front of each mission, and also at selected historical landmarks. By 1913, the goal of placing 450 bells was reached. One bell was placed in front of each mission and the balance were placed along the El Camino Real highway. Since then over 586 bells have been replaced on the 101 highway. The bell gracing the new entrance to the museum is dated 1906. It was originally placed on El Camino Real near Mary Avenue in Sunnyvale.
Kolstad is the owner of the California Bell Company. For more information go to www.saratogahistory.com or call 408-867-4311.
April 27-28, 2019 – Spring Victorian Teas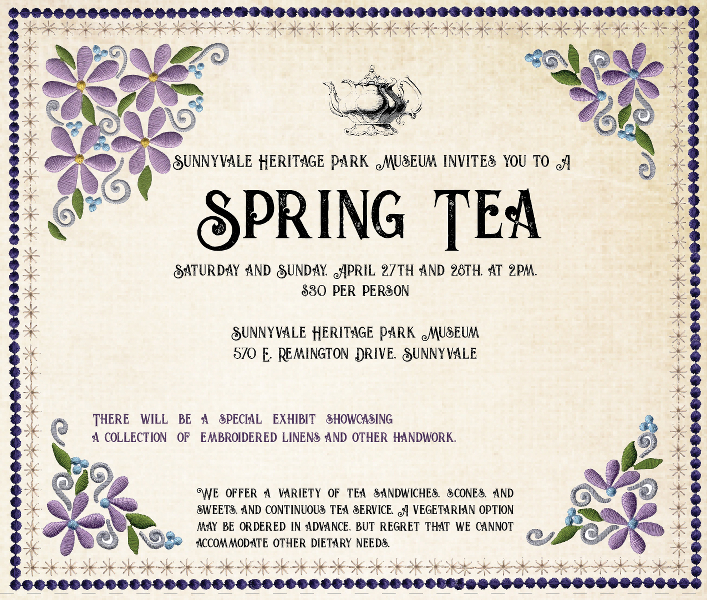 April 6, 2019 – Spring Garage Sale
February 11, 2019 – General Meeting
Winter 2019 Special Exhibit
Our first upstairs special exhibit  this year was, Communications before Technology.  From writing to waving flags to signal lights, there were many ways to communicate before computers!
Copyright © 2019 Sunnyvale Historical Society & Museum Association, Inc., All Rights Reserved