While the museum itself is still closed (with a tentative opening date planned for January), there is good news for your Holiday shopping plans: the Museum Store will open with a limited schedule beginning November 5th! See details about hours and COVID protocol below.
 This is a unique opportunity for you to support the museum during a time when other sources of income have dried up due to  the pandemic. Your gift-shopping dollars will go directly to our operating budget!
 Museum Store volunteers have prepared a safe shopping experience for you, expanding the store to the large museum foyer to make ample room for social distancing. In addition to tables displaying  specific Holiday gifts and décor, you will also find a vast array of unique vintage items, lace and embroidered table linens to set the perfect dinner or tea, precious china and crystal, as well as jewelry and scarves. A selection of books for young readers, games, dolls, and felted purses will thrill the children on your shopping list, and the adult reader will find interesting material about local history and biographies as well as historical novels.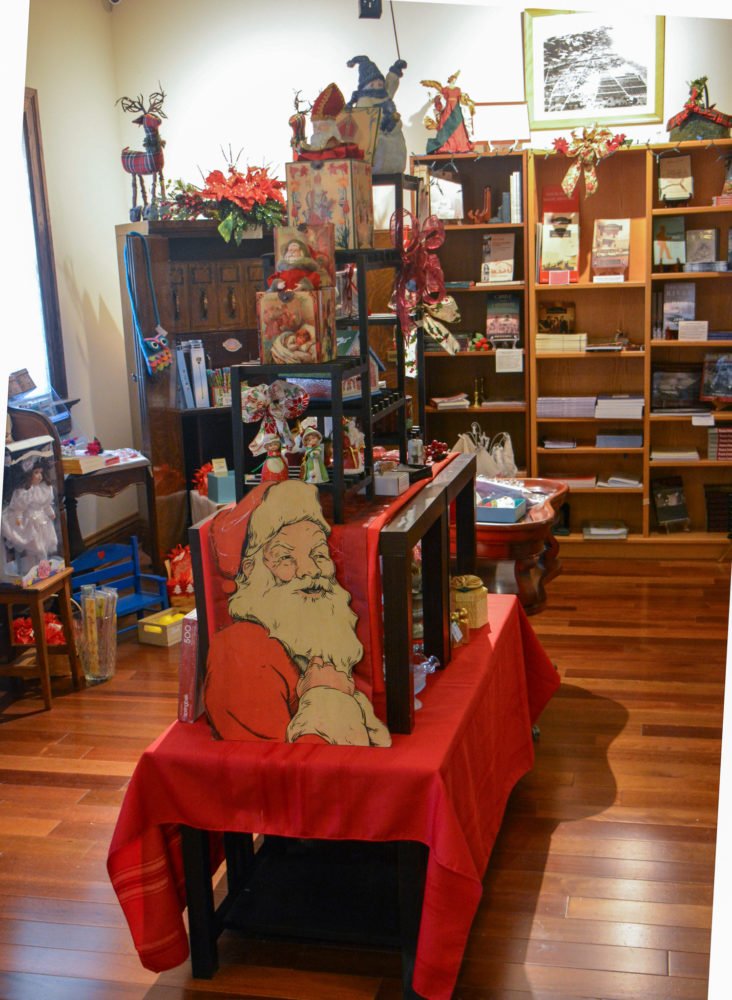 If you are lucky, your visit might coincide with the time Elisabeth, our volunteer pianist, will be making sure the parlor piano is in good working order and delighting us with a few festive tunes. As a special bonus for their loyalty, shoppers will receive a gift with their purchase!
Shopping at the Museum Store is a delightful experience. One of our frequent holiday shoppers sent the following testimonial: 
 Every time I stop by the museum store, I always come out with a treasure of some kind. I love how you can find vintage goodies there. Over the years I've found beautiful floral teacups, a pretty little pitcher, a porcelain bud vase, and an adorable embroidered doily. The books on local history always pique my interest, too, and the store is a great place for hostess and holiday gifts. The volunteers arrange everything so beautifully and knowing that I'm supporting the museum is a great feeling.     Ginny Kubitz Moyer
Museum Store Opening Hours and Safety Protocol:
 Starting November 5th, the store will be open 
Thursday and Sunday afternoons
1:00 – 4:00 pm.
 Two volunteers will always be  present, assisting visitors in order to make shopping a safe experience for both the visitors  and the volunteers.
You must wear a face covering before entering the museum building. In case someone forgets, there will be extra disposable masks at the front desk.

Hand sanitizer will be dispensed to everyone who enters.

Social distance of six feet must be observed.

A plexiglass shield has been installed in front of the cash register to keep both shoppers and staff safe.

Visitors may not meander around the museum exhibits, and bathroom use is not permitted.