A FREE "Living History" community event
Where: Sunnyvale Heritage Park Museum 570 E. Remington Drive
When: Saturday, September 10, 2022, 11 a.m. to 4 p.m.
A 'Walk Through Time' will take  all visitors, young and old, on a journey through local history, beginning with life 200+ years ago,  then moving on through time to experience the evolution of Sunnyvale and its neighboring communities. Learn about the different groups of people who called this area home, catch a glimpse of their way of life, and experience hands-on activities from those long-ago days. Identify  some of Sunnyvale's earliest companies and what they brought to a changing city. Learn about the innovators of the late 1960s and how their contributions brought Sunnyvale from an agricultural community to the high-tech city identified today as The Heart of Silicon Valley.
We invite you to join the fun – dress up in your favorite period costumes or show off your cultural ethnic attire.
Visitors might want to carry a reusable bag or backpack to bring home the items handcrafted at our booths.
Save on gas and avoid searching for a parking spot. Ride your bike and get PRIORITY parking close to all the action. The Friends of Stevens Creek Trail will be hosting a free Bike Corral to keep bikes safe while  your family enjoys the event. Remember to wear your helmets and follow all the safety rules for bicycle safety.
Extra parking spots will be reserved for those with accessibility issues. Please place your ADA Placard on your mirror or dashboard.
Booths
Native American, Spanish, Mexican, Pioneers, Irish, Japanese, Chinese, Portuguese immigrant groups; Orchards and Canneries, and many more
Hendy Iron Works, Lockheed Martin, Westinghouse, Northrop Grumman, Moffett Field and others
Irish Cultural Center of San Francisco, Japanese American Museum of San Jose, History San José, Portuguese Historical Park, Chinese American Cultural Project, and more to come
Activities
Acorn Shelling, Making Masa, Lassoing Cows, Pioneer Pocket Dolls, GOLD Panning with mining stories, Wool Spinning, Rope Making, STEM fun, Robot play, and so much more
Performers
San Jose Taiko Drummers, South Bay Cantonese Music, Cormac Gammon Irish music, Historical Vignettes by "Portraits of the Past", Folklorico Nacional Mexicano Dance, San Jose Uzumaru Dance Group, and Celtic Harmony
Food available for purchase
Two food trucks will  offer tasty options from 11:00 – 3:30. 
Bike Parking
The Friends of Stevens Creek Trail will host Free Bike parking in our designated Bike Corral. This Priority Parking area will bring you right next to the action. Get some exercise, save on gas, protect our environment, and know that your bike is safe while you enjoy your day. Bike corral hours: 10:45 am to 4:15.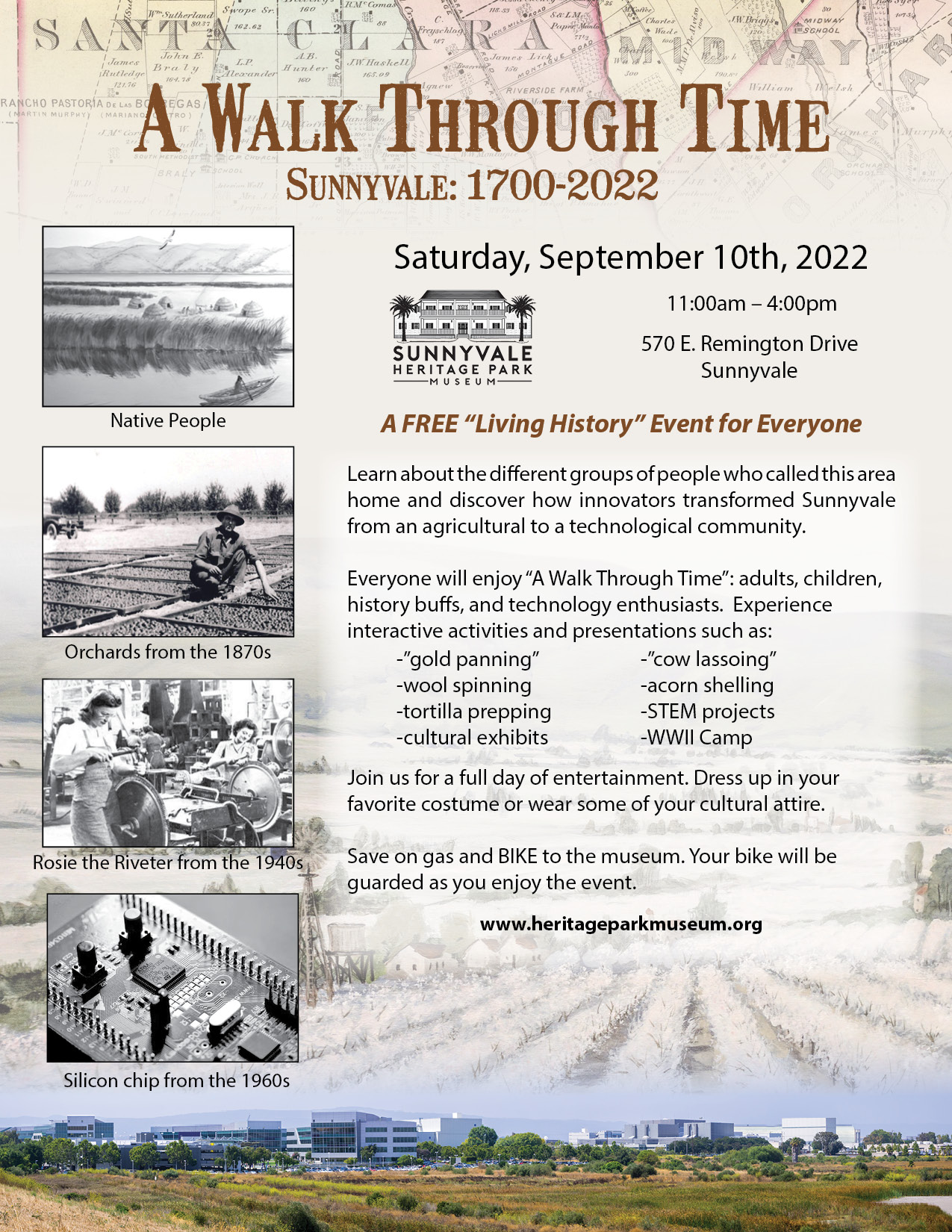 By Kim Thurgate