It's December already, and you have not yet purchased a single gift! – No need to panic: visit the Museum Store for a range of offerings that will make your holiday shopping a breeze! For the readers on your list, we offer a wide selection of titles from non-fiction volumes of local historical interest, such as Yvonne Jacobson's seminal work Passing Farms, Enduring Values, or her personal Memoir of a Farmer's Daughter in Silicon Valley. Other book selections include local historian Mary Jo Ignoffo's history of Sunnyvale or her unraveling of the Sarah Winchester mystery, Captive of the Labyrinth.  Robin Chapman's California Apricots, the Arcadia volume Sunnyvale,  and Jane Kirkpatrick's latest novel, One More River to Cross, which tells the story of the Stephens-Townsend-Murphy Wagon Train from the perspective of the women involved, also make great gifts.Those who love mysteries might like Tobin Gilman's story of real events, The McGlincy Killings in Campbell, or The California Snatch Racket by James R. Smith and W. Lane Rogers.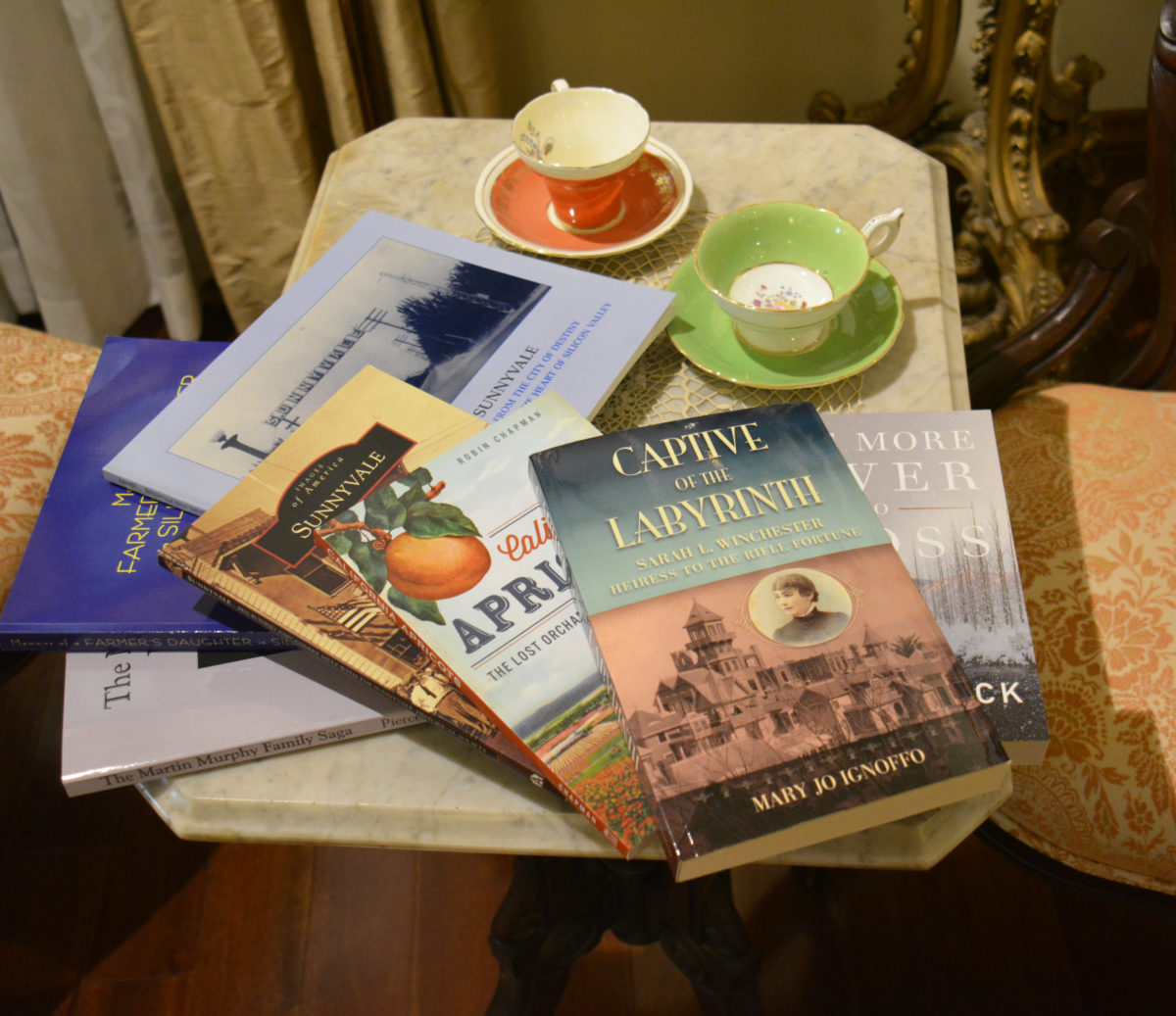 Your grandchildren will be delighted by the toys and games we offer as well as children's books. Everyone will find our new tote bags very useful: blue and lightweight, with the SHS logo in white on the front. Sunnyvale souvenirs include T-shirts in many colors, soup and coffee mugs, hats, postcards, and prints of an old map from 1906.
Moving into winter, your family and friends will appreciate a lovely tartan scarf.
Holiday decorations and Santa Claus statues will make your house look festive, and Christmas jewelry to adorn ears and  sweaters will put you in the mood for a Holiday party, not to mention the lovely array of dainty china and sparkling crystal from which to choose.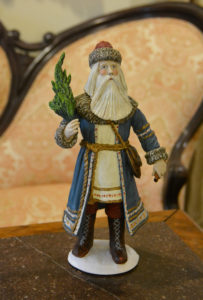 And remember: with your society membership, you will get a 10% discount on all of your purchases. Do you need another gift idea?  Give a museum membership to someone on your list.
The store managers would very much appreciate small boxes without labels in which to package jewelry for sale, and Holiday-themed shopping bags, too.  Please drop them off at the museum store.