For well over a century, sending cards has been an important part of the holiday season, a way to extend seasonal wishes to family and friends. What is the history behind Christmas cards? Who sent the first cards? What objects or scenes were depicted on those cards? The history buff within me uncovered some fascinating facts as I researched those questions. 
Note: I understand that many people send holiday cards which are not associated with Christmas, but given the space considerations here, I will focus on the sending of Christmas cards.
The Impact of the British Royal Family and Charles Dickens
The U.K.'s Queen Victoria, whose mother and husband, Prince Allbert, were both German-born, brought German holiday traditions to England in the 1830s. They popularized the Christmas tree and gave each other Christmas cards while encouraging their children to create cards of their own. About the same time, Charles Dickens was busy creating Christmas imagery in his published works. In addition to A Christmas Carol, Dickens wrote Christmas-themed stories for the two magazines he published. Referred to as "the man who invented Christmas" his portrayals of ice and snow at Christmas time, along with hot turkey dinners, and family cheer, set the stage for the modern celebration. 
1843: First Commercial Christmas Card
Sir Henry Cole, who later became the first director of London's Victoria and Albert Museum, commissioned his friend, John Horsley, to design the first commercial Christmas card; it was available to the public in 1843, the same week that Dickens' A Christmas Carol was published. Using a printing process known as lithography, which required the costly services of professionals to hand-color the design inside the outlines, one thousand copies of the card were printed, selling for one shilling each, greater than the daily wage of many Victorians. That first Christmas card, pictured here, depicted a family drinking wine to toast the holiday. The side panels showed two acts of charity: the giving of food and clothing to the poor. The card was heavily criticized by temperance reformers because the child in the foreground was drinking wine. Of the copies that were printed, only a few remain today, mostly in museums. In December of 2020, a publisher's file copy was priced at $25,000.
1875: The Growing Popularity of Christmas Cards
Due to the criticism over the Cole/Horsley Christmas card and the high cost of printing, three more decades passed before Christmas cards gained popularity in both England and the United States. Louis Prang, a Prussian immigrant, is thought to be the first to manufacture a Christmas card in the United States, using a newer, less costly technology, chromolithography.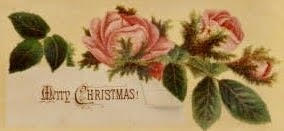 Although his first card, printed in 1875, was a simple non-seasonal flower design with the words "Merry Christmas" being the only reference to the holiday, its popularity was immediate. The early cards designed by Prang and others depicted flowers, landscapes and animals, rather than the items Americans were just beginning to associate with the holidays such as Christmas trees, wreaths, and boughs of holly. Later, when cards featured more traditional holiday motifs, some were adorned with silk fringe, cords, and tassels. By 1881, Prang was reportedly printing five million Christmas cards a year. 
Christmas Cards: Affordable Art in Middle Class Homes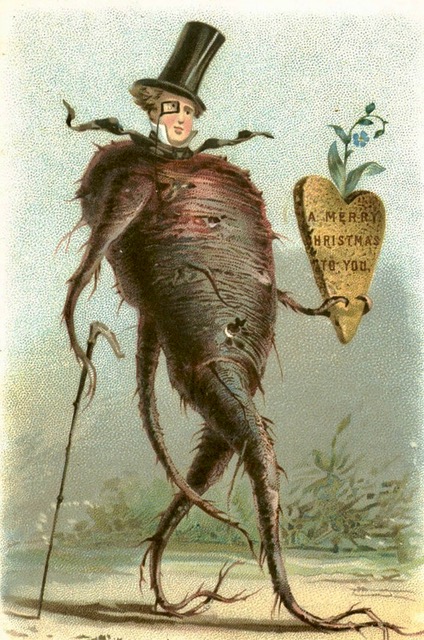 In addition to being a vehicle for sending holiday greetings, Christmas cards brought affordable art into Victorian middle class homes – art was no longer just for the wealthy. Cards picturing landscapes and floral motifs could be displayed all year long. Many Victorians saved holiday card collections in albums or scrapbooks to share with others.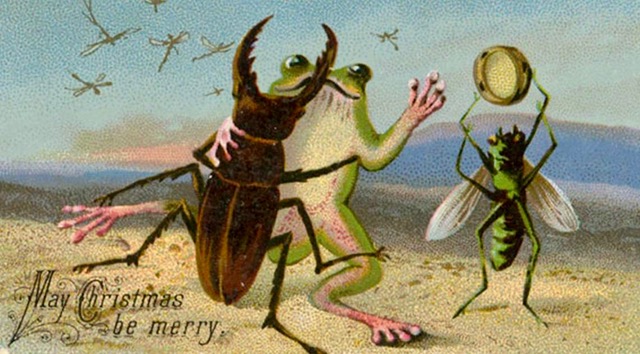 Bizarre Christmas Cards
In1885, Louis Prang and other Victorian artists began to design Christmas cards  picturing rather bizarre subjects, putting a creepy spin on some of the seasonal greetings. Such designs included turnip men (half vegetable, half man), bloodthirsty bears, and dead birds, a symbol of the cold winter season.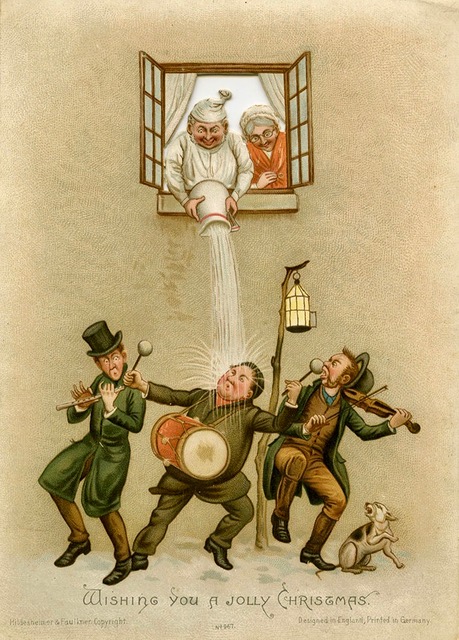 One card pictured a dead robin with the message "May yours be a joyful Christmas". Other designs showed a Santa-like figure, known as Krampus, kidnapping naughty children and putting them in his bag. Even the image of an insect dancing with a frog accompanied by a tambourine-playing housefly appeared on a Christmas card with the words "May Christmas be Merry". Still another card pictured an elderly couple pouring water from a second story window onto a group of carolers below, with the words "Wishing you a jolly Christmas". Even though a strict code of social conduct reigned during the Victorian Age, many Victorians took delight in the ridiculous, bizarre, and ghoulish – even during the Holiday season.
Present-day Christmas Cards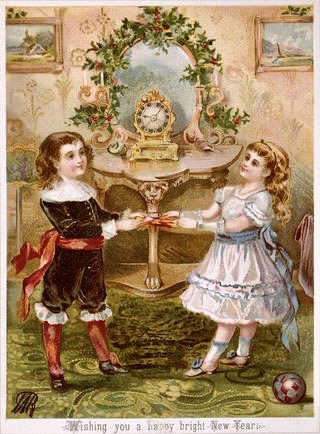 Thankfully, not many creepy cards are delivered today. Although holiday cards have evolved through the decades, with photo cards and electronic greetings providing major changes, the desire to stay in touch with family and friends has remained. 
May all of you, our museum members and your families, enjoy a VERY HAPPY HOLIDAY SEASON!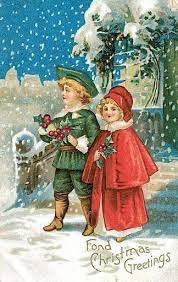 By Linda Kubitz