Someday in, say, 2030, young people are going to see vintage footage of street scenes from 2020 and ask in bewilderment, "Were people reenacting scenes from ancient movies, playing bank robbers? And why were the roads so empty?", and we will chuckle and reminisce about "living through COVID-19".
In order to preserve those memories, the museum will archive the stories, photos, and poems you sent us when we asked "What is your COVID experience in Sunnyvale?" – If you haven't participated yet, you can still send us your contributions. Go to the blogpost by clicking in the image below.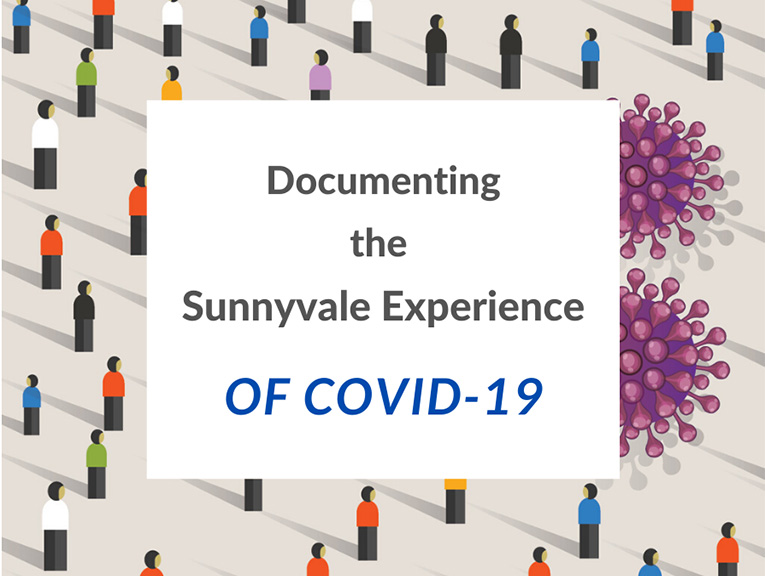 The members who answered our call registered a variety of experiences during this pandemic. Sunnyvale's dogs have never been exercised more than in the past months! We heard from members who enjoy the empty streets and less traffic, and who love meeting their neighbors on walks. All over town, families have posted teddy bears and stuffed animals in their front windows or even outside for children to spot as they walk their neighborhoods.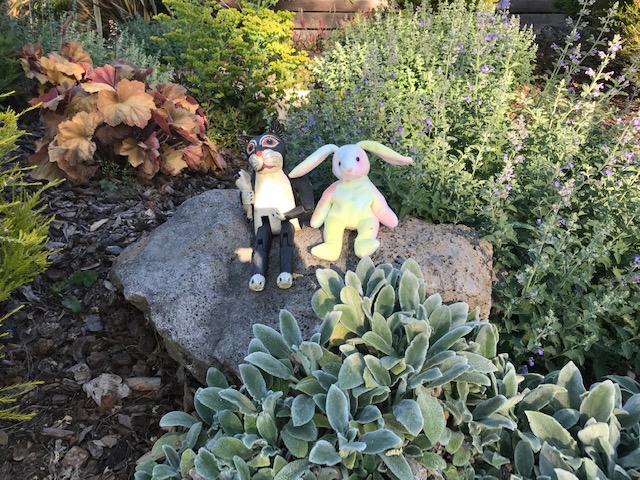 Sidewalk chalk drawings bring smiles to walkers' faces, some encourage us to play a game of hopscotch, others depict a map of prominent Sunnyvale landmarks, or include upbeat messages.
One person expressed the worry that published numbers of cases and death rates were exaggerated. A teacher is struggling with the new demands of distance learning and the toll it takes on students, families, and colleagues, and is concerned about the situation going forward. Crafters sprang into action when the call for more masks was issued and used their pile of fabric remnants to produce masks to give away to hospitals and volunteers.
A couple slated to get married did not let the pandemic stop them – instead of a big party, they had a quiet ceremony in their front yard, with their guests watching online.
People return to long-forgotten hobbies or discover new ones; gardens are turned into food-producing havens, and houses have never been cleaner. Procrastinators finally get to tidy up the attic or start a project that they had planned for a long time. Family visits now happen on zoom, but while communication and work have moved to the cyber world, people have developed a heightened sense for the beauty of their immediate surroundings in sights and smells.
One of our members already envisions a future exhibit "June 2020": piles of toilet paper stacked in a corner, bottles of hand sanitizer and empty bags of yeast and flour, which were in short supply especially at the beginning of the stay-at-home order.
Here are a few more photos from those who have shared.
Article by Katharina Woodman