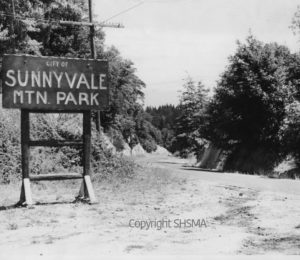 Do you remember the 250-acre city-owned park, located on Skyline Boulevard, 4.5 miles south of Highway 9? It was purchased in 1958 for $50,000 and existed until 1977 when it was sold to Santa Clara County for $366,000. The money from the sale went toward the purchase of open space within the city that was then dedicated as park property. This includes the Sunnyvale Community Center off of E. Remington where Heritage Park and the museum are located.
Here are some comments from people on the Facebook group:
Ann Marie C – We went with the Cub Scouts and had a great time. Thanks for the reminder.
Eric R – I went to half day camps in the summer around 1970. Does the city still own it?
Mike C – Very great memories as a Sunnyvale Cub Scout, 403, maybe around 1964. Thanks for posting!!
Monty G – Yes. Great spot. There was a barn you could camp in if it rained. Most Bay Area cities had mountain parks. Palo Alto Foothills park requires you to be a PA city resident [in order to use it].
Ellyn J – I remember walking there. Very pretty!
Matthew S – Been there many times, Boy Scouts and with friends.
Richard C – Back in the 70s I did a lot of work at the mountain park. The name of the city employee that ran the park was Leon Gideon.
Russell E – Sure…I used to go there with the Boy Scouts and summer school. This was late 60s, early 70s when I was there..