The museum is dependent upon its strong group of volunteers.  Membership to the Sunnyvale Historical Society and Museum Association helps to support our daily operations.  
Members Benefits

:
Receive a special monthly 

Members-only Newsletter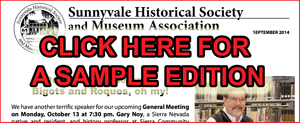 [Click image to the left for an example issue that you receive each month as a society member.]
Receive early invitations to special museum events and lectures, as well as private members-only events
Receive a 10% discount on Gift Shop purchases
You can either sign up on-line here:
Or you can drop by the Museum Gift Shop and fill out the paperwork to join the society. [Membership Form]
We thank you for joining our group of members; your support is appreciated.
Copyright © 2014 Sunnyvale Historical Society and Museum Association, Inc., All Rights Reserved