Winter 2018 – History of the Canneries in Sunnyvale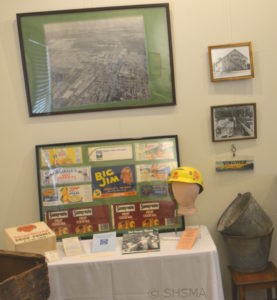 Our current rotating exhibit for the winter of 2018 is about the Canneries of Sunnyvale. With the multitude of orchards and national fruit industry here, Libby's, Del Monte, and Schuckl's were the largest employers in the city/town for many decades.
Spring Garage Sale – April 21, 2018
The next Garage Sale will be Saturday, April 21, 2018, 8am to 2pm.  The location of the garage sale itself is at 795 South Wolfe Road, Sunnyvale, CA (closest cross street is Iris Avenue). We always accept DONATIONS, so keep us in mind all year as you find things of value that you no longer need.  Suggested donation items are: tools, decorations, jewelry, furniture, kitchen items, exercise equipment, and bicycles. You can bring donations to the museum whenever we are open, Sunday, Tuesday and Thursday, from 12-4pm.
Spring Victorian Teas – April 28-29, 2018
Our next Victorian Teas will be on April 28-29, 2018.  Click Here for the reservation form.
Spring 2018 – Hats in Sunnyvale
Our next rotating exhibit will a display of hats! More details coming soon.
Copyright © 2018 Sunnyvale Historical Society & Museum Association, Inc., All Rights Reserved