September 28, 2019 – Anniversary Celebration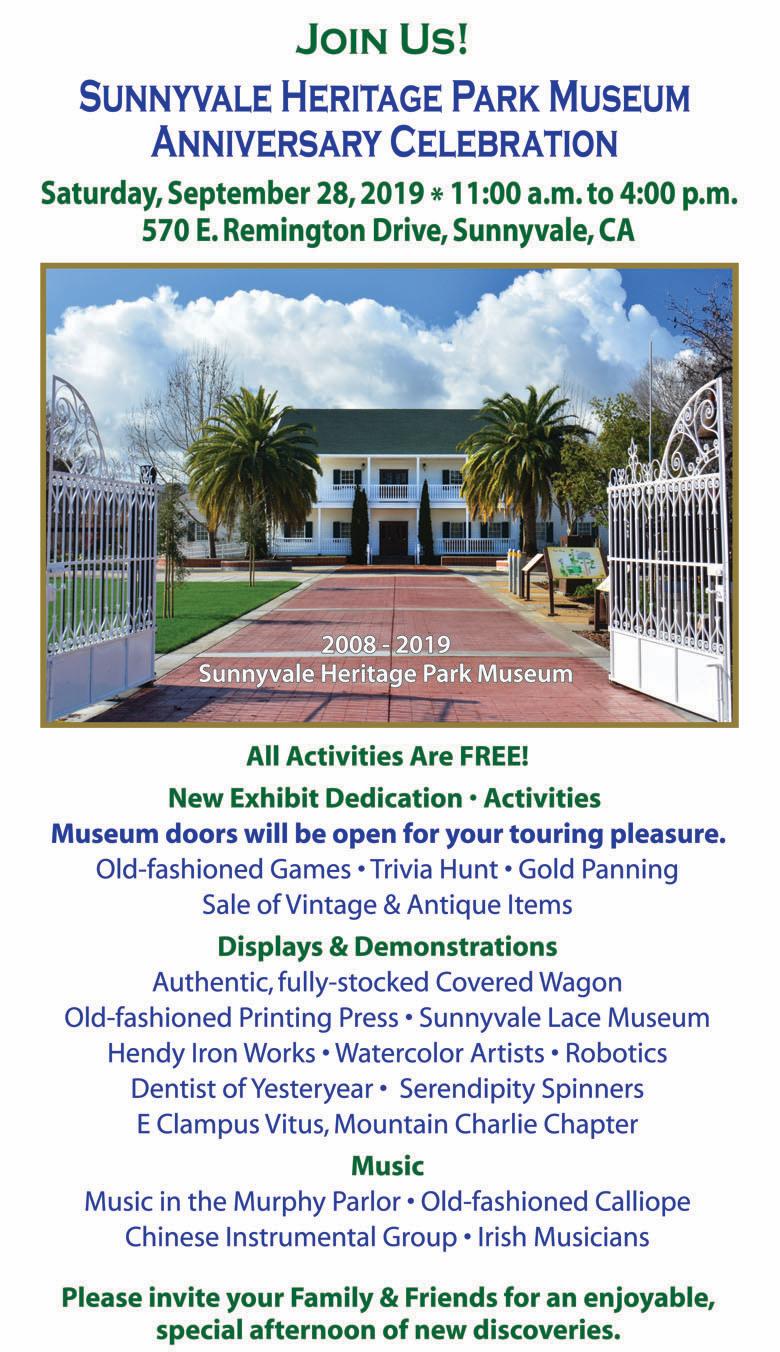 A new, grand entrance has been created to welcome visitors to our museum building. Delays in construction have pushed the celebration to 2019, so please join us on September 28th for a dedication of the new outdoor exhibits and a "Ten Plus One" anniversary event.   Click Here to see the 2018 demolition and remodeling  photos.
June – October, 2019 –  Historic Downtown Sunnyvale Exhibit
A look at Sunnyvale from "Murphy's Station" to the Fifties.
In the horse-and-buggy days of the 1860s settlement known at the time as Murphy's Station, Main Street (now Murphy Avenue) was a dirt road leading to the railroad stop. the first store held windows for the post office, the drugstore, and the general store, respectively.
The museum's new exhibit includes a series of photographs and maps depicting the slow growth and development of the early downtown, as well as artifacts from the first businesses lining Main Street and the railroad tracks. The display shows tools from the first veterinary office, the first morgue services, items from Del Monte's cannery, Ryan's Hotel, Tao Tao's, the Kirkish store, and much more.
This exhibit opened June 30th and will run through October 20th.
October 14, 2019 – General Meeting, 7 PM
Our speaker will be Jamis MacNiven, owner of Buck's Restaurant in Woodside, California. He will talk about his nearly three decades of witnessing the development of Silicon Valley firsthand.  Entrepreneurs have met, planned and discussed business in his eclectic eatery. Engaging with those guests has given Jamis pause to ponder, not only the growth of Silicon Valley, but the broader picture of California as a whole, and the risk-takers who arrived here through the centuries.  Jamis is an accomplished speaker, and his talks have been well received locally, around the country, and internationally, too.
December 7, 8, 13, 15, 2019 – Holiday Teas
A formal, Victorian tea will please and delight all your senses. Come and enjoy assorted tea sandwiches and sweets complete with all the trimmings.  Our next Victorian Teas will be our  Holiday Tea in December.  Click Here for more information.
The next teas will be December 7, 8, 13, 15, 2019
Copyright © 2019 Sunnyvale Historical Society & Museum Association, Inc., All Rights Reserved