CENTENNIAL CELEBRATION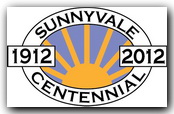 • WOW! What a Celebration! Martin Murphy was surely smiling down on us the weekend of August 25th and 26th, 2012. Not only was the weather absolutely perfect, but the two days from beginning to end were truly a celebration of a lifetime. Sunnyvale has probably not seen anything so grand since 1881 when Martin and Mary Murphy celebrated their 50th wedding anniversary held at their Bay View home. Between 4,000 and 5,000 people attended their celebration and for our Centennial Celebration we calculated more than 6,000 people attended over the course of the two-day weekend. Everyone had a grand time.
• The festivities began with a rousing parade, the likes of which has not been seen since the city-wide parade to celebrate 2000. There were marching bands, antique cars, costumes, but most exciting of all unbridled enthusiasm and joy for our city. For more information see the (Special Centennial Celebration Newsletter)

May – September 2012
In 2012, Sunnyvale celebrated the centennial of the city's incorporation.  A model railroad was setup as part of this special exhibit for the celebration.
There was also a public celebration on August 25 and 26, when Sunnyvale celebrated with a parade and two days of music, exhibits, demonstrations and presentations.
Copyright © 2012 Sunnyvale Historical Society & Museum Association, Inc., All Rights Reserved