Welcome to the Sunnyvale Heritage Park Museum
MUSEUM (and Gift Shop) HOURS:    
Sundays/Tuesdays/Thursdays 12pm to 4pm
BECOME A MEMBER:   Private events, newsletter, discounts and more.   CLICK HERE
Please check our MUSEUM CALENDAR frequently to find out about upcoming events.            Or click this FACEBOOK link below to Like us on Facebook.
---
LATEST NEWS
Maintenance Building Demolition
The maintenance building in front of the museum is being removed so that we will have a new, grand entrance in time for the ten year anniversary of our museum building in September.  Part of our parking lot is blocked off, but we are open and fully ADA accessible. Click Here for construction photos.
Spring Victorian Teas – April 28-29, 2018
SOLD OUT!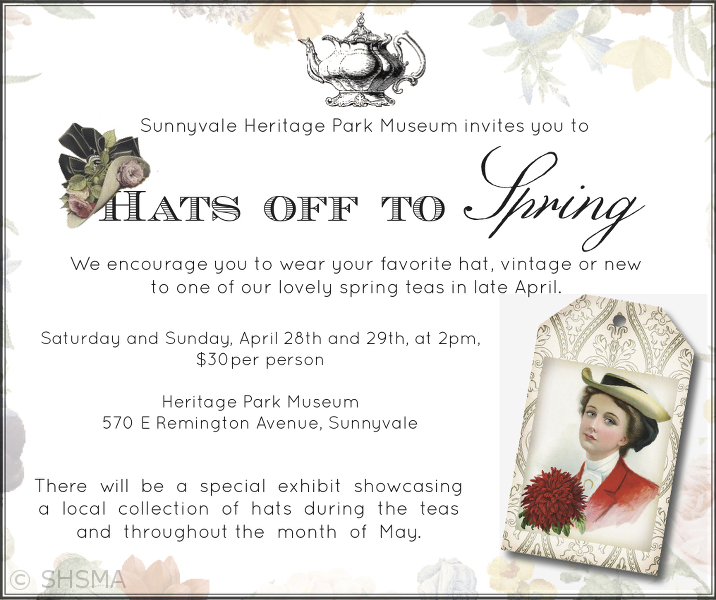 Our next Victorian Teas will be on April 28-29, 2018. We are sold out, but you may still visit on Sunday to view our special hats exhibit and decor for the tea!
Spring Garage Sale – April 21, 2018
The next Garage Sale will be Saturday, April 21, 2018, 8am to 2pm.  The location of the garage sale itself is at 795 South Wolfe Road, Sunnyvale, CA (closest cross street is Iris Avenue). We always accept DONATIONS, so keep us in mind all year as you find things of value that you no longer need.  Suggested donation items are: tools, decorations, jewelry, furniture, kitchen items, exercise equipment, and bicycles. You can bring donations to the museum whenever we are open, Sunday, Tuesday and Thursday, from 12-4pm.

Spring 2018 – Hats in Sunnyvale
Our current rotating exhibit is Hats in Sunnyvale! This special exhibit is on display through early June.
June 11, 2018 – General Meeting
Past 2018 Events
Winter 2018 – History of the Canneries in Sunnyvale
Our rotating exhibit for the winter of 2018 was about the Canneries of Sunnyvale. With the multitude of orchards and national fruit industry here, Libby's, Del Monte, and Schuckl's were the largest employers in the city/town for many decades.
March 1, 2018 – Santa Clara County Watercolor Association Visit
It was a rainy day, but artists from the Santa Clara County Watercolor Association visited for sketching and painting at the museum. Click Here for more photos.
February 11, 2018 – Cannery Workers Reception

This Cannery Workers Reception was part of the winter special exhibit on the Canneries of Sunnyvale.
General Meeting – January 29, 2018
Thank you to all who attended our general meeting!  Jeanne MacVicar gave a presentation on the Orphan Trains.  If you missed this informative talk, you can view all the slides and hear her talk on our YouTube channel, click on the image below.
"Blue Cube" Donations and Stories Wanted!
The Sunnyvale Historical Society is looking for engineers to help tell the story of the Blue Cube. Please contact the museum if you have momentos or stories to share.
Give the Gift of Membership
Your membership to the Sunnyvale Historical Society and Museum Association helps to support our daily operations.  Members Benefits include, our members-only Newsletter, special invitations to members-only events, and a 10% discount on Museum Gift Shop purchases.  You can become a member online (below) or come into the museum Gift Shop.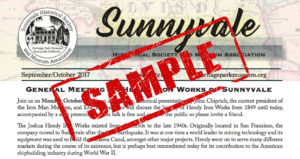 Click image to the left for a full-color example newsletter issue that you receive every month as a society member.
Members can decide to receive this full-color PDF via e-mail instead of via US Mail.  If this is a Gift Membership, add the recipient info in the Add a special message Section when completing the transaction on PayPal.
Orchard Heritage Park
In 1994, the City of Sunnyvale preserved 10 acres of apricot trees to celebrate the important contribution of orchards to the early development of the local economy. The museum opened next to the orchard in 2008. Click the photo for views of our apricot orchard throughout the year .
In Memoriam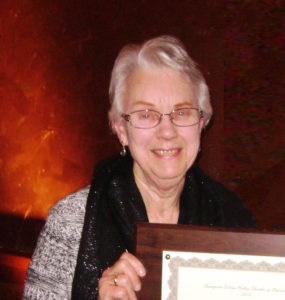 It is with great sorrow that we announce the
August 19, 2017 passing of Jeanine Stanek, the Sunnyvale Historical Society's Chief Archivist. Her dedication to history, her positive attitude, and her endless energy was an inspiration to us all. She will be greatly missed. Click Here for the Museum Director's memories of Jeanine.
Here is a photo from February 2014, of Jeanine receiving the 2013 Murphy Award for Lifetime Community Contribution.
Copyright © 2018 Sunnyvale Historical Society & Museum Association, Inc., All Rights Reserved