Welcome to the Sunnyvale Heritage Park Museum
LOCATION:

   570 East Remington Drive,  Sunnyvale, CA 94087    

PHONE:

   (408) 749-0220
MAILING ADDRESS:

 PO Box 2187,  Sunnyvale, CA 94087-0187
MUSEUM AND GIFT SHOP HOURS:    
Sundays/Tuesdays/Thursdays 12pm to 4pm
BECOME A MEMBER:   Private events, newsletter, discounts and more.   CLICK HERE
Please check our MUSEUM CALENDAR frequently to find out about upcoming events.            Or click this FACEBOOK link below to Like us on Facebook.
---
LATEST NEWS:
Homemade Handiwork Exhibit Now Open – UNTIL JUNE 9th
This special temporary exhibit celebrates the home made crafts made by Sunnyvale residents over the years. Stop by the upstairs rotating exhibit room on Tuesdays, Thursdays or Sundays from 12-4pm from now through June 9th to see the Homemade Handiwork Exhibit!
Save the date for the next General Meeting: Tuesday,  June 9, 2015
Our annual June General Meeting is scheduled for Tuesday, June 9 starting at 7:30PM. After a quick overview of the museum's past year, we have a great speaker planned for the evening.
Sacramento Author Cheryl Stapp will speak on her latest book The Stagecoach in Northern California:  Rough Rides, Gold Camps and Daring Drivers. The Gold Rush brought the stagecoach to California, and Cheryl Stapp will entertain us with stories of a long gone era when stagecoaches traversed the formidable Sierra Nevada, bringing people, supplies and gold.
Join us for a fascinating evening as Cheryl relates stories of coachmen, highwaymen, accidents and disasters.  Admission is FREE, we hope to see you there!
SAVING THE BUTCHER FAMILY HOME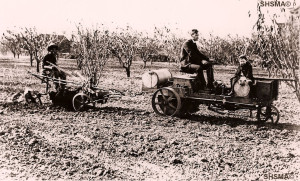 The Sunnyvale Historical Society is working with the City of Sunnyvale to look at alternatives for saving the Butcher Family ranch home. The home was built in 1912 and is a remarkable example of a high-end ranch home of the early 1900s. The photo link to the left gives more information on the site and preferred location on the Heritage Park site.  [Click the photo for more information.]
Past 2015 Events
Silicon Valley Gives – Tuesday, May 5, 2015
Thank you to everyone who donated to the Sunnyvale Historical Society during this year's Silicon Valley Gives Event. We surpassed last year's SVGives totals thanks to your generous contributions!  Your donations go directly to help fund the museum's monthly operations of programs and education. Every dollar makes a difference and is greatly appreciated. If you didn't get a chance to donate for this event,  you can find a DONATE Button on the right-hand side.  And again,  thank you for your continued support!
SPRING VICTORIAN TEAS
This year's Victorian Teas were April 25 & 26 (Saturday & Sunday) and May 3 (Sunday) at the Sunnyvale Heritage Park Historical Museum.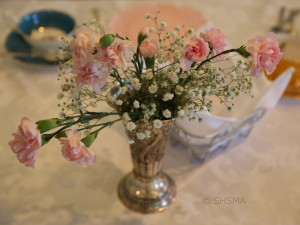 SPRING GARAGE SALE:  APRIL 18TH
The Sunnyvale Heritage Park Historical Museum Spring Garage Sale was Saturday, April 18th from 8am to 2pm.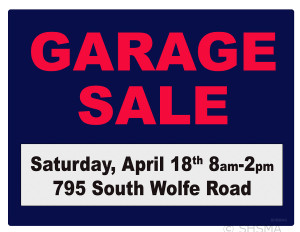 CHILDREN'S ILLUSTRATION CONTEST PART 2 and iBOOK on SALE

In early 2014, the Sunnyvale Heritage Park Museum held a contest for interpreting our Technology Timeline for a digital version. Kids and teens participated in this project by illustrating stories and questions that trigger new innovations.
The Second Part of the contest finished in April 2015.   Students were encouraged to interpret the subjects of avionics, electronics and software.  [Contest info]
  Congratulations to all of the 2015 winners and everyone who participated!  We had more than 240 amazing entries, and judging was difficult.    Click HERE to view the final results and an overview (and video) of some of the entries.
The  public art reception of entries was on Sunday, April 19th from 

1- 4 pm!
The full edition of the Sunnyvale Heritage Park Museum's Technology Timeline iBook will be released in late 2015, when the upcoming contests in Avionics, Software, and Electronics are completed. The full price of the complete iBook will be $19.99. This first and preview edition iBook is on SALE for $9.99. Purchase this preview edition, and you will AUTOMATICALLY be updated and receive the final full version for FREE!
---
FEBRUARY 9th MEETING
Our February General Meeting speaker was Mark Hylkema, who has 33 years of experience teaching archeology and Native American culture. He gave a great presentation on Excavating the Castroville Mammoths that was attended by a packed house!
Here is a video of the first half hour of Mark Hylkema's presentation on Excavating the Castroville Mammoths, recorded on February 9, 2015. If you have the bandwidth, you can change the settings to HD (high def) and expand to full screen.
Here was the FLYER for the event.
THANKS FOR A FANTASTIC 2014!
As we say goodbye to another year, we look back and see that 2014 was a busy year at the museum. We had multiple temporary exhibits and reception events, interesting speakers, an Antique Faire, two Victorian Teas, two garage sales and more. We educated nearly 1500 third graders during our hosted field trips, and we opened our doors to thousands of visitors for FREE!  Our volunteers and donors made 2014 a banner year, thank you for your support!
---
THE GIFT OF MEMBERSHIP
Your membership to the Sunnyvale Historical Society and Museum Association helps to support our daily operations.  Members Benefits include, our members-only Newsletter, special invitations to members-only events, and a 10% discount on Museum Gift Shop purchases.  You can become a member online (below) or come into the museum Gift Shop.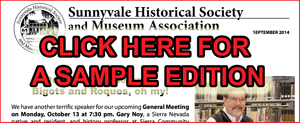 Click image to the left for a full-color example newsletter issue that you receive every month as a society member.
Members can decide to receive this full-color PDF via e-mail instead of via US Mail.
Or you can drop by the Museum Gift Shop and fill out the paperwork to join the society.
---
Antique Sale and Appraisal Faire—August 24th, 2014
Thanks to everyone who came to our Antique Sale and Appraisal Faire on Sunday, August 24th, 2014.   We will schedule another Antique Faire for August of 2015! Keep watching.
We had professional appraisers from Michaan's Auction House to appraise visitors' relics and family heirlooms.   We held an Antique Sale as we liquidated some of the treasures from our inventory, and visitors bought numerous collectables to display in their homes.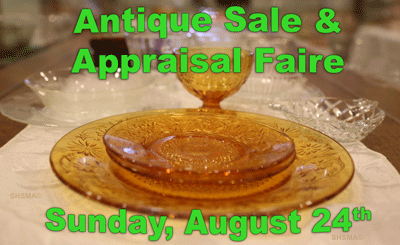 Volunteers from the Lace Museum gave special demonstrations and the Drop In Blue Grass Band provided the musical entertainment for the afternoon.
Thanks to all of the volunteers who worked so hard to make the event a success!
SUNNYVALE AUTHORS' DAY
• Thanks to everyone who came to the Sunnyvale Authors' Day at the Heritage Park Museum last year. It was a great event with a steady stream of book lovers who got to talk at length with the authors.
AUTHOR INTERVIEWS: 
• Representatives from the Sunnyvale Public Library were on hand to interview some of the authors during Authors' Day. This helped capture some of the interesting backgrounds of the authors and their books. These videos can now be found at the Sunnyvale Library YouTube Channel.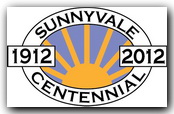 CENTENNIAL CELEBRATION Update
• WOW! What a Celebration! Martin Murphy was surely smiling down on us the weekend of August 25th and 26th, 2012. Not only was the weather absolutely perfect, but the two days from beginning to end were truly a celebration of a lifetime. Sunnyvale has probably not seen anything so grand since 1881 when Martin and Mary Murphy celebrated their 50th wedding anniversary held at their Bay View home. Between 4,000 and 5,000 people attended their celebration and for our Centennial Celebration we calculated more than 6,000 people attended over the course of the two-day weekend. Everyone had a grand time.
• The festivities began with a rousing parade, the likes of which has not been seen since the city-wide parade to celebrate 2000. There were marching bands, antique cars, costumes, but most exciting of all unbridled enthusiasm and joy for our city. For more information see (Special Centennial Celebration Newsletter)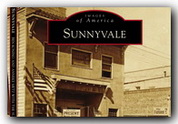 Sunnyvale, the latest book in the Arcadia "Images of America" series, has been released. It encompasses all of Sunnyvale's rich history, with never before seen vintage photographs and outstanding text written by Sunnyvale natives Ben Koning and Anneke Metz.
Books are available at the museum gift shop.
Copyright © 2015 Sunnyvale Historical Society & Museum Association, Inc., All Rights Reserved