Welcome to the Sunnyvale Heritage Park Museum
LOCATION:

   570 East Remington Drive,  Sunnyvale, CA 94087    

PHONE:

   (408) 749-0220
MAILING ADDRESS:

 PO Box 2187,  Sunnyvale, CA 94087-0187
MUSEUM AND GIFT SHOP HOURS:     Sundays/Tuesdays/Thursdays 12pm to 4pm
Please check our MUSEUM CALENDAR frequently to find out about upcoming events.            Or click the FACEBOOK link below to Like us on Facebook.
---
LATEST NEWS:
New Exhibit – Low Tech to High Tech—now through mid-October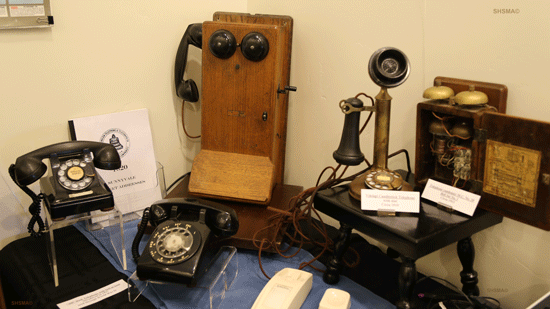 Our new "Low Tech to High Tech" Exhibit is officially open to the public. The new exhibit highlights the changes of technology from the abacus to modern day marvels. The exhibit spans the range of multiple technologies:  calculators to cameras, and mimeographs to printers.
This exhibit is open to public through mid-October during normal museum hours [Tuesday, Thursday, Sunday from noon to 4pm]. You are encouraged and welcome to stop by the Sunnyvale Historical Museum to see this interesting collection.
Also, save the date for our special Low Tech to High Tech Reception on Sunday, September 7th from 1-3:30pm.  Enjoy an expanded exhibit, refreshments, and special visitors during the afternoon event.  We hope to see you there!
Antique Sale and Appraisal Faire—August 24th from noon to 4PM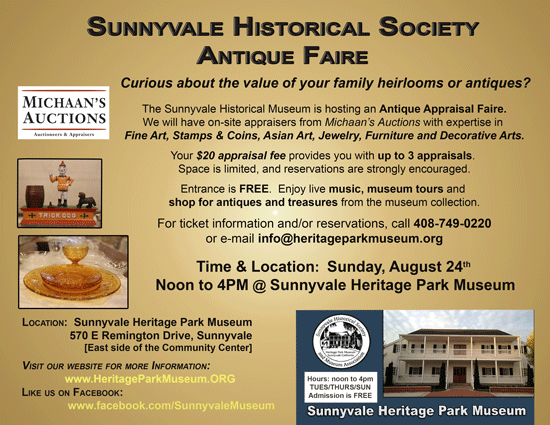 Have you ever wondered just what that antique toy from Grandpa was worth, or the jewelry from your grandmother, or the treasure you found at a garage sale? 
Professional appraisers from Michaan's Auction House will be at the museum for an Antique Faire from noon to 4PM on Sunday, August 24th.  
Reservations are almost full.  Call or visit the museum during regular business hours Tuesdays, Thursdays, and Sundays from 12 noon to 4pm (408-749-0220) to reserve your time slot.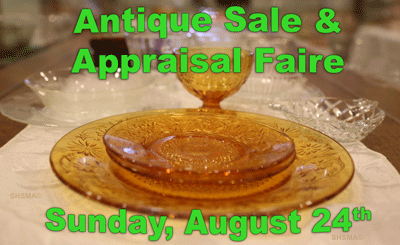 Entrance to the event is FREE!  It will be a fun afternoon of live music, demonstrations by members from The Lace Museum and Purlescence Yarns, exhibits, and (as usual) free tours of the museum.
There will also be an Antique Sale as we liquidate some of the treasures from our inventory. Plan on attending this fun event.
JUNE GENERAL MEETING SPEAKER: ROBIN CHAPMAN – June 9th
Thanks to everyone who attended our annual General Meeting on June 9th.  Local author Robin Chapman was our guest speaker for the evening.  She spoke on her latest book California Apricots: The Lost Orchards of Silicon Valley.
Robin was born and raised in Los Altos and has had a varied and interesting career as a television journalist. Robin has extensive knowledge of the history of apricots and the orchard families of the valley.
Here was the FLYER for the evening.
CHILDREN'S ILLUSTRATION RECEPTION – June 8th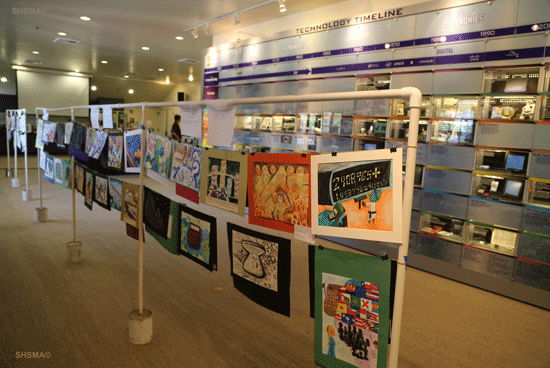 The Sunnyvale Heritage Park Museum held a contest for interpreting our Technology Timeline for a digital version. Kids and teens participated in this project by illustrating stories and questions that trigger new innovations.
We showcased all of the artwork at a special reception at the museum on June 8th.
Besides the showcase of original artwork, Richard Chang, former VP of Dreamworks, spoke on "Technology in Art, Hollywood in Sunnyvale" at 1:30pm.
It was a fun afternoon—thanks to everyone that attended!
Learn more details about the contest and reception HERE.
Silicon Valley Gives
–

 Tuesday, May 6th
Thanks to everyone who contributed to the SVGives Event, the first-ever 24-hour online fundraising event aimed at inspiring and uniting our local community to support philanthropic causes in the Santa Clara, San Mateo, and San Benito counties.  
Hosted by the Silicon Valley Community Foundation, SVGives helped raise money for local nonprofits through a single online giving platform.   

Thanks to everyone who contributed.  Click the link below (or the image above) if you still want to donate.
GREAT DEPRESSION ERA EXHIBIT RECEPTION – March 2nd
     Thanks for attending!  
We had a packed house Sunday, March 2nd for our special reception for our new exhibit:  Memories of the Great Depression.
There was live music by the Stargeezers, 1930s themed refreshments, and an expanded exhibit for the day.
Here was the FLYER for the event.  The museum web page on the new exhibit can be found HERE.
SAVING THE BUTCHER FAMILY HOME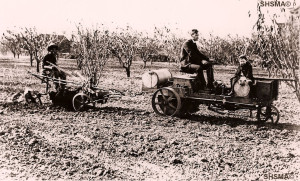 The Sunnyvale Historcial Society is working with the City of Sunnyvale to look at alternatives for saving the Butcher Family ranch home. The home was built in 1912 and is a remarkable example of a high-end ranch home of the early 1900s. The photo link to the left gives more information on the site and preferred location on the Heritage Park site.  [Click the photo for more information.]
WELCOME HOME
• Here is a photograph of our 163 year old Martin Murphy, Jr. Piano being returned from a complete cleaning, restoration, and tuning on April 2, 2013.
• It looks and plays GREAT! Come by the museum in order to see this wonderfully restored artifact.
SUNNYVALE AUTHOR'S DAY
• Thanks to everyone that came to the Sunnyvale Authors' Day at the Heritage Park Museum last year. It was a great event with a steady stream of book lovers who got to talk at length with the authors.
AUTHOR INTERVIEWS: 
• Representatives from the Sunnyvale Public Library were on-hand to interview some of the authors during Authors Day. This helped capture some of the interesting backgrounds of the authors and their books. These videos can now be found at the Sunnyvale Library YouTube Channel.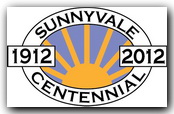 CENTENNIAL CELEBRATION Update
• WOW! What a Celebration! Martin Murphy was surely smiling down on us the weekend of August 25th and 26th, 2012. Not only was the weather absolutely perfect, but the two days from beginning to end were truly a celebration of a lifetime. Sunnyvale has probably not seen anything so grand since 1881 when Martin and Mary Murphy celebrated their 50th wedding anniversary held at their Bay View home. Between 4,000 and 5,000 people attended their celebration and for our Centennial Celebration we calculated more than 6,000 people attended over the course of the two-day weekend. Everyone had a grand time.
• The festivities began with a rousing parade, the likes of which has not been seen since the city-wide parade to Celebrate 2000. There were marching bands, antique cars, costumes, but most exciting of all unbridled enthusiasm and joy for our city… For more information. (Special Centennial Celebration Newsletter)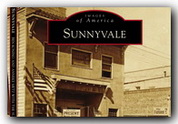 Sunnyvale, the latest book in the Arcadia "Images of America" series, has been released. It encompasses all of Sunnyvales' rich history, with never before seen vintage photographs and outstanding text written by Sunnyvale natives Ben Koning and Anneke Metz.
Books are available at the museum gift shop.
Copyright © 2014 Sunnyvale Historical Society & Museum Association, Inc., All Rights Reserved