Welcome to the Sunnyvale Heritage Park Museum
LOCATION:

   570 East Remington Drive,  Sunnyvale, CA 94087    

PHONE:

   (408) 749-0220
MAILING ADDRESS:

 PO Box 2187,  Sunnyvale, CA 94087-0187
MUSEUM (and Gift Shop) HOURS:    
Sundays/Tuesdays/Thursdays 12pm to 4pm
BECOME A MEMBER:   Private events, newsletter, discounts and more.   CLICK HERE
Please check our MUSEUM CALENDAR frequently to find out about upcoming events.            Or click this FACEBOOK link below to Like us on Facebook.
---
LATEST NEWS
Fall Garage Sale Cancelled
The garage sale that was scheduled for October 7, 2017 has been CANCELLED due to too many scheduling conflicts.  We usually have fundraisers twice a year (in the Spring and in the Fall).  We still accept DONATIONS, so keep us in mind all year as you find things of value that you no longer need.  Suggested donation items are: tools, decorations, jewelry, furniture, kitchen items, exercise equipment, and bicycles.
Fall General Meeting – Monday, October 9, 2017
"Blue Cube" Donations and Stories Wanted!
The Sunnyvale Historical Society is looking for engineers to help tell the story of the Blue Cube. Please contact the museum if you have momentos or stories to share.
Current Rotating Exhibit
Enjoy the photos of Gabriel Ibarra, architectural historical photographer, whose images capture the heart of Silicon Valley. The final day for this exhibit has been extended to October 8, 2017.  Click Here for more views of this exhibit.
School Program Coordinator Needed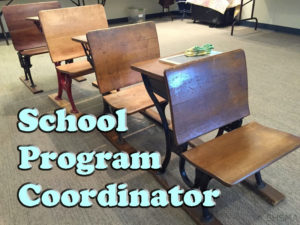 The Sunnyvale Historical Society is looking for someone who would be willing to serve as the School Program Coordinator for our annual School Program. The free program brings our local third grade students to the museum to learn about life more than a 100 years ago.
The yearly program is all set up and ready to go, but needs a new coordinator for our volunteers [Training and support will be provided]. Experience working with children would also be helpful.
For more information about volunteering, please call: (408) 736-1665 or (408) 738-2482. 
2017 Holiday Teas – December 2, 3, 9, 10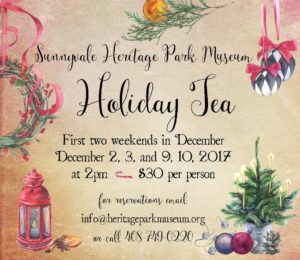 A formal, Victorian Tea will please and delight all your senses. Come and enjoy assorted tea sandwiches and sweets complete with all the trimmings.  Reservations are required. Call 408-749-0220 on Sunday, Tuesday or Thursday from 12-4pm.
GIVE THE GIFT OF MEMBERSHIP
Your membership to the Sunnyvale Historical Society and Museum Association helps to support our daily operations.  Members Benefits include, our members-only Newsletter, special invitations to members-only events, and a 10% discount on Museum Gift Shop purchases.  You can become a member online (below) or come into the museum Gift Shop.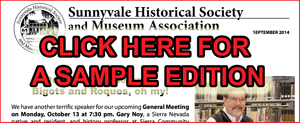 Click image to the left for a full-color example newsletter issue that you receive every month as a society member.
Members can decide to receive this full-color PDF via e-mail instead of via US Mail.  If this is a Gift Membership, add the recipient info in the Add a special message Section when completing the transaction on PayPal.
Or you can drop by the Museum Gift Shop and fill out the paperwork to join the society.
---
---
[custom-facebook-feed]
---
Orchard Heritage Park
In 1994, the City of Sunnyvale preserved 10 acres of apricot trees to celebrate the important contribution of orchards to the early development of the local economy. The museum opened next to the orchard in 2008. Click the photo for views of our apricot orchard throughout the year .
SAVING THE BUTCHER FAMILY HOME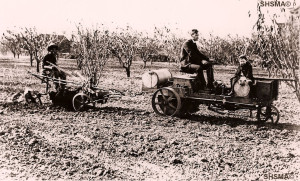 The Sunnyvale Historical Society is working with the City of Sunnyvale to look at alternatives for saving the Butcher Family ranch home. The home was built in 1912 and is a remarkable example of a high-end ranch home of the early 1900s. The photo link to the left gives more information on the site and preferred location on the Heritage Park site.  [Click the photo for more information.]
History Through Art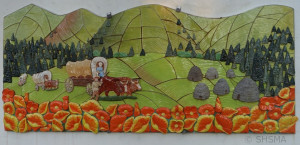 Here is a photo of a mural installed in Murphy Park in 2015 that shows the Murphy family arrival.  There are many works of art around Sunnyvale that depict our town history.  Click here to see our new webpage listing these statues, murals and models.
Past 2017 Events
Local TV show features the Museum
Click to play the full episode.

Sewing Machine Mini-Exhibit
In honor of National Sewing Machine Day, June 13, 2017, we had a special mini exhibit in the museum lobby of sewing machines from our archive collection!
June 25, 2017 – Orchardists Recognition Event
Click Here for photos from our special event,  the unveiling of the new panels commemorating Sunnyvale's early Yugoslav orchardists.
June 12, 2017 –  General Meeting
Our guest speaker was Alan Leventhal, a professor at San José State University and archaeologist, anthropologist and ethnohistorian who has worked with the Muwekma Ohlone Tribe for the past 37 years. He discussed the tribe's many ties to the Bay Area. Click Here for photos and a video recording of the talk.
2017 Spring Garage Sale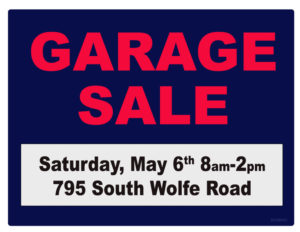 May 6, 2017 was our spring Garage Sale.
Thank you to everyone who donated items, volunteered to work, and came to shop!
Spring Tea – April 29 & 30, 2017
Volunteer Fire Department Display at the Library
2017 Women's History Month Exhibit
For the month of March, we had a special mini-exhibit in the upstairs hallway to commemorate Women's History in Sunnyvale.  Here is a painting called "Teatime Memories" by Alice Freund.  This piece was created in honor of Sunnyvale's 75th anniversary in 1987.  Click on the photo to learn more!
January – March 2017 – Chinese art from "Snow White Bubble Gum Cards"  Art cards and posters from children's literature.
2017 Presidents' Day Exhibit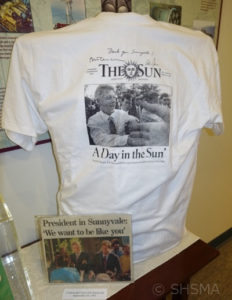 For the month of February, we had a special mini-exhibit in the upstairs hallway to commemorate Presidents' Day in Sunnyvale.  Click here for more photos.
February 13, 2017 –  General Meeting
At our general meeting Monday, February 13, Kristin Dance, who works for the City of Sunnyvale, gave a presentation on the public art in Sunnyvale.
In Memoriam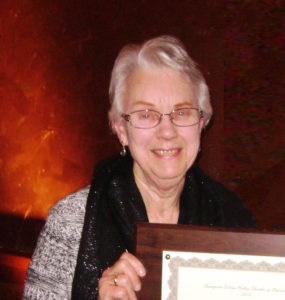 It is with great sorrow that we announce the August 19, 2017 passing of Jeanine Stanek, the Sunnyvale Historical Society's Chief Archivist. Her dedication to history, her positive attitude, and her endless energy was an inspiration to us all. She will be greatly missed. Click Here for her full obituary.
Here is a photo of Jeanine Stanek in February 2014 receiving the 2013 Murphy Award for LIfetime Community Contribution.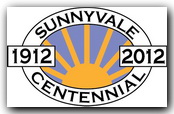 CENTENNIAL CELEBRATION Update
• WOW! What a Celebration! Martin Murphy was surely smiling down on us the weekend of August 25th and 26th, 2012. Not only was the weather absolutely perfect, but the two days from beginning to end were truly a celebration of a lifetime. Sunnyvale has probably not seen anything so grand since 1881 when Martin and Mary Murphy celebrated their 50th wedding anniversary held at their Bay View home. Between 4,000 and 5,000 people attended their celebration and for our Centennial Celebration we calculated more than 6,000 people attended over the course of the two-day weekend. Everyone had a grand time.
• The festivities began with a rousing parade, the likes of which has not been seen since the city-wide parade to celebrate 2000. There were marching bands, antique cars, costumes, but most exciting of all unbridled enthusiasm and joy for our city. For more information see (Special Centennial Celebration Newsletter)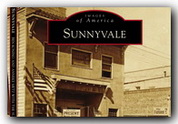 Sunnyvale, the latest book in the Arcadia "Images of America" series, has been released. It encompasses all of Sunnyvale's rich history, with never before seen vintage photographs and outstanding text written by Sunnyvale natives Ben Koning and Anneke Metz.
Books are available at the museum gift shop.
Copyright © 2017 Sunnyvale Historical Society & Museum Association, Inc., All Rights Reserved