Welcome to the Sunnyvale Heritage Park Museum
LOCATION:

   570 East Remington Drive,  Sunnyvale, CA 94087    

PHONE:

   (408) 749-0220
MAILING ADDRESS:

 PO Box 2187,  Sunnyvale, CA 94087-0187
MUSEUM (and Gift Shop) HOURS:    
Sundays/Tuesdays/Thursdays 12pm to 4pm
BECOME A MEMBER:   Private events, newsletter, discounts and more.   CLICK HERE
Please check our MUSEUM CALENDAR frequently to find out about upcoming events.            Or click this FACEBOOK link below to Like us on Facebook.
---
LATEST NEWS:
Women's History Month Exhibit
For the month of March, we have a special mini-exhibit in the upstairs hallway to commemorate Women's History in Sunnyvale.  Here is a painting called "Teatime Memories" by Alice Freund.  This piece was created in honor of Sunnyvale's 75th anniversary in 1987.  Click on the photo to learn more!
Spring Tea – April 29 & 30
The 2017 Spring Victorian Teas will be Saturday and Sunday, April 29 & 30.  For more information, Click Here.
Spring Garage Sale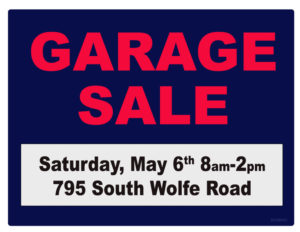 May 6, 2017 will be our next Garage Sale! Donations are wanted, such as tools, decorations, jewelry, furniture, kitchen items, exercise equipment, and bicycles.
The location of the garage sale itself is at 795 South Wolfe Road, Sunnyvale, CA (closest cross street is Iris Avenue).
Upcoming Rotating Exhibit
April 2017 – Photographs by Gabriel Ibarra, architectural historical photographer, whose photography captures the heart of Silicon Valley.  This exhibit is currently being setup and should be ready for public viewing on March 30th.
GIVE THE GIFT OF MEMBERSHIP
Your membership to the Sunnyvale Historical Society and Museum Association helps to support our daily operations.  Members Benefits include, our members-only Newsletter, special invitations to members-only events, and a 10% discount on Museum Gift Shop purchases.  You can become a member online (below) or come into the museum Gift Shop.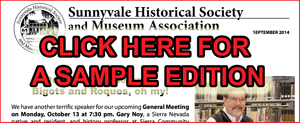 Click image to the left for a full-color example newsletter issue that you receive every month as a society member.
Members can decide to receive this full-color PDF via e-mail instead of via US Mail.  If this is a Gift Membership, add the recipient info in the Add a special message Section when completing the transaction on PayPal.
Or you can drop by the Museum Gift Shop and fill out the paperwork to join the society.
---
---
---
Orchard Heritage Park
In 1994, the City of Sunnyvale preserved 10 acres of apricot trees to celebrate the important contribution of orchards to the early development of the local economy. The museum opened next to the orchard in 2008. Click the photo for views of our apricot orchard throughout the year .
SAVING THE BUTCHER FAMILY HOME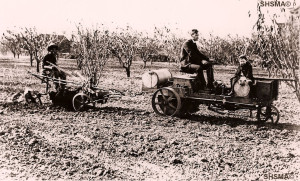 The Sunnyvale Historical Society is working with the City of Sunnyvale to look at alternatives for saving the Butcher Family ranch home. The home was built in 1912 and is a remarkable example of a high-end ranch home of the early 1900s. The photo link to the left gives more information on the site and preferred location on the Heritage Park site.  [Click the photo for more information.]
History Through Art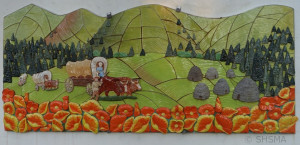 Here is a photo of a mural installed in Murphy Park in 2015 that shows the Murphy family arrival.  There are many works of art around Sunnyvale that depict our town history.  Click here to see our new webpage listing these statues, murals and models.
Past 2017 Events
January – March 2017 – Chinese art from "Snow White Bubble Gum Cards"  Art cards and posters from children's literature.
Presidents' Day Exhibit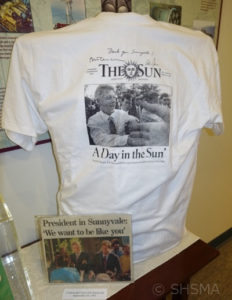 For the month of February, we had a special mini-exhibit in the upstairs hallway to commemorate Presidents' Day in Sunnyvale.  Click here for more photos.
February 13 General Meeting
At our general meeting Monday, February 13, Kristin Dance, who works for the City of Sunnyvale, gave a presentation on the public art in Sunnyvale.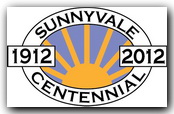 CENTENNIAL CELEBRATION Update
• WOW! What a Celebration! Martin Murphy was surely smiling down on us the weekend of August 25th and 26th, 2012. Not only was the weather absolutely perfect, but the two days from beginning to end were truly a celebration of a lifetime. Sunnyvale has probably not seen anything so grand since 1881 when Martin and Mary Murphy celebrated their 50th wedding anniversary held at their Bay View home. Between 4,000 and 5,000 people attended their celebration and for our Centennial Celebration we calculated more than 6,000 people attended over the course of the two-day weekend. Everyone had a grand time.
• The festivities began with a rousing parade, the likes of which has not been seen since the city-wide parade to celebrate 2000. There were marching bands, antique cars, costumes, but most exciting of all unbridled enthusiasm and joy for our city. For more information see (Special Centennial Celebration Newsletter)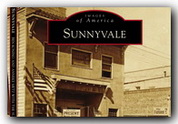 Sunnyvale, the latest book in the Arcadia "Images of America" series, has been released. It encompasses all of Sunnyvale's rich history, with never before seen vintage photographs and outstanding text written by Sunnyvale natives Ben Koning and Anneke Metz.
Books are available at the museum gift shop.
Copyright © 2017 Sunnyvale Historical Society & Museum Association, Inc., All Rights Reserved