Welcome to the Sunnyvale Heritage Park Museum
MUSEUM (and Gift Shop) HOURS:    
Sundays/Tuesdays/Thursdays 12pm to 4pm
BECOME A MEMBER:   Private events, newsletter, discounts and more.   CLICK HERE
Please check our MUSEUM CALENDAR frequently to find out about upcoming events.            Or click this FACEBOOK link below to Like us on Facebook.
---
LATEST NEWS
Monday, January 29, 2017 – General Meeting – 7PM Starting Time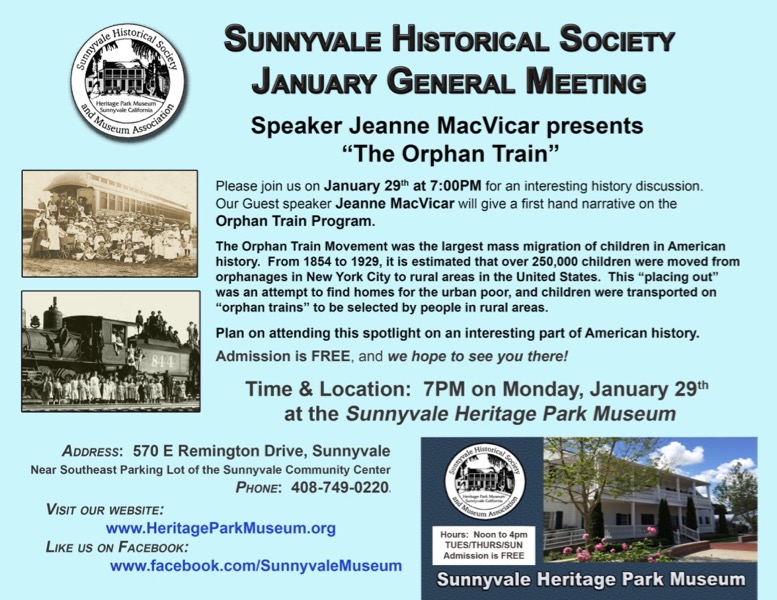 Guest speaker Jeanne MacVicar will give a first hand narrative on the Orphan Train Program. The Orphan Train Movement was the largest mass migration of children in American history. It lasted from 1854 to 1929 and it is estimated that over 250,000 children were moved from orphanages in New York City to rural areas in the United States. It was the genesis of the modern day foster care system and the brain child of Charles Loring Brace, a Methodist minister and social activist. This "placing out" was an attempt to find homes for the urban poor and children were transported on "orphan trains" to be selected by people in rural areas. Jeanne's Great-Aunt Adeline Rousseau Trowbridge arrived in Clyde, Kansas on the Orphan Train in 1911. She was taken in by Jeanne's Great-Grandparents George and Sarah Trowbridge at the age of 3 and is buried in the Clyde cemetery. The presentation is an informative history of the Orphan Train Movement on a very personal level.
Winter 2018 – History of the Canneries in Sunnyvale
Our new rotating exhibit for the winter of 2018 will be about the canneries of Sunnyvale. With the multitude of orchards and national fruit industry here, Libby's, Del Monte, and Schuckl's were the largest employers in the city/town for many decades.
We will also host a cannery reception showcasing the history of these canneries along with our collection of cannery artifacts on Sunday, Feb. 11, from 1:00pm to 3:30pm.
"Blue Cube" Donations and Stories Wanted!
The Sunnyvale Historical Society is looking for engineers to help tell the story of the Blue Cube. Please contact the museum if you have momentos or stories to share.
Give the Gift of Membership
Your membership to the Sunnyvale Historical Society and Museum Association helps to support our daily operations.  Members Benefits include, our members-only Newsletter, special invitations to members-only events, and a 10% discount on Museum Gift Shop purchases.  You can become a member online (below) or come into the museum Gift Shop.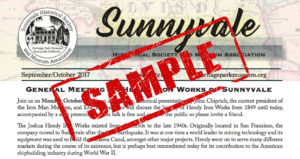 Click image to the left for a full-color example newsletter issue that you receive every month as a society member.
Members can decide to receive this full-color PDF via e-mail instead of via US Mail.  If this is a Gift Membership, add the recipient info in the Add a special message Section when completing the transaction on PayPal.
Orchard Heritage Park
In 1994, the City of Sunnyvale preserved 10 acres of apricot trees to celebrate the important contribution of orchards to the early development of the local economy. The museum opened next to the orchard in 2008. Click the photo for views of our apricot orchard throughout the year .
In Memoriam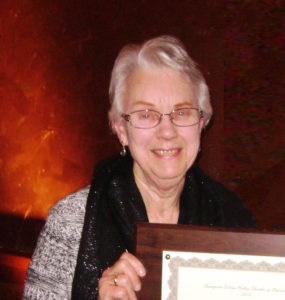 It is with great sorrow that we announce the
August 19, 2017 passing of Jeanine Stanek, the Sunnyvale Historical Society's Chief Archivist. Her dedication to history, her positive attitude, and her endless energy was an inspiration to us all. She will be greatly missed. Click Here for the Museum Director's memories of Jeanine.
Here is a photo from February 2014, of Jeanine receiving the 2013 Murphy Award for Lifetime Community Contribution.
Copyright © 2017 Sunnyvale Historical Society & Museum Association, Inc., All Rights Reserved