Welcome to the Sunnyvale Heritage Park Museum
best viewed in landscape mode by mobile viewers
MUSEUM (and Museum Store) HOURS:    
Sundays/Tuesdays/Thursdays 12pm to 4pm
BECOME A MEMBER:   receive newsletters, store discounts and more.  CLICK HERE
Please check our MUSEUM CALENDAR frequently to find out about upcoming events.          Or click this FACEBOOK link below to Like us on Facebook.
---
LATEST NEWS
October 14, 2019 – General Meeting, 7 PM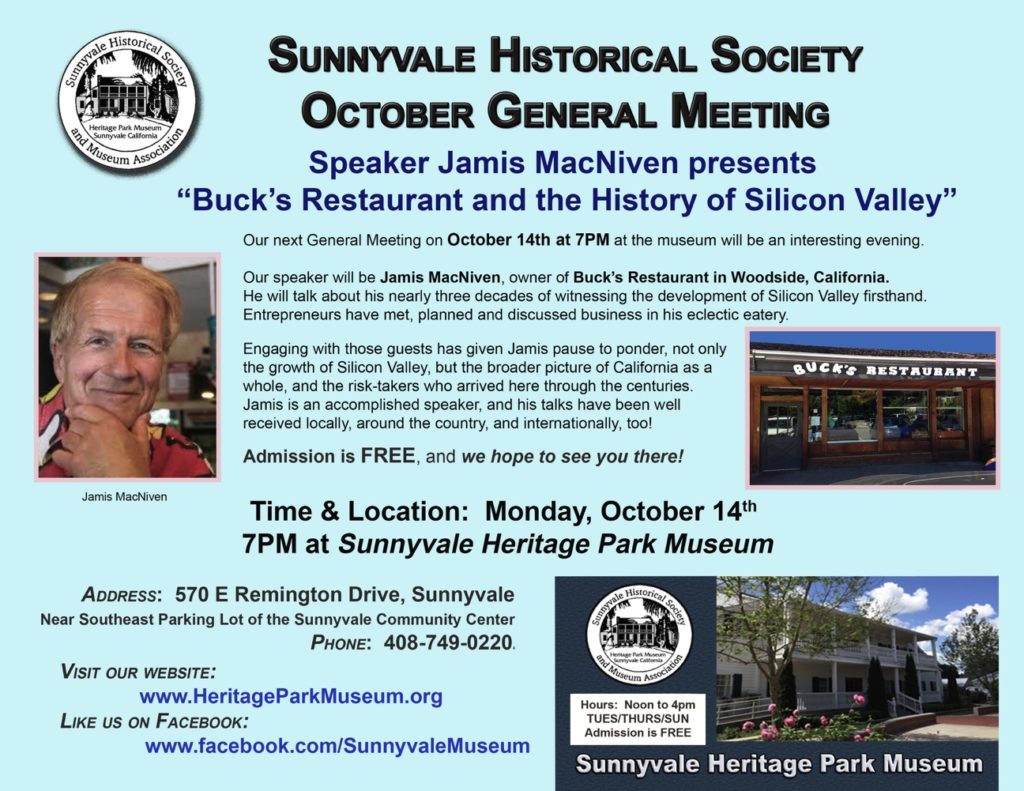 Our speaker will be Jamis MacNiven, owner of Buck's Restaurant in Woodside, California. He will talk about his nearly three decades of witnessing the development of Silicon Valley firsthand.  Entrepreneurs have met, planned and discussed business in his eclectic eatery. Engaging with those guests has given Jamis pause to ponder, not only the growth of Silicon Valley, but the broader picture of California as a whole, and the risk-takers who arrived here through the centuries.  Jamis is an accomplished speaker, and his talks have been well received locally, around the country, and internationally, too.
Student Docent Program
The Sunnyvale Heritage Park Museum announces the formation of a student docent volunteer program, a free opportunity for teens to fulfill volunteer service hours and enhance their college resumé in a fun and interactive way!
Following their training as shown here, participants will become museum docents, working 2-4 hours each month through the 2019-2020 school year, leading tours, interacting with visitors, and assisting with museum activities and programs.
The museum has received numerous requests for opportunities for high school students to participate at the museum, and this program is a result of those requests.
The Student Docent Program will provide real work experience, the students will explore local history and be involved with community outreach while working on building their public speaking, presentation and customer service skills. Volunteering will enrich their life experience.
Program details and an application can be obtained by emailing the Sunnyvale Heritage Park Museum.
info@heritageparkmuseum.org
Current Special Exhibit – Historic Downtown Sunnyvale
A look at Sunnyvale from "Murphy's Station" to the Fifties is called Historic Downtown Sunnyvale.
In the horse-and-buggy days of the 1860s settlement known at the time as Murphy's Station, Main Street (now Murphy Avenue) was a dirt road leading to the railroad stop. the first store held windows for the post office, the drugstore, and the general store, respectively.
The museum's new exhibit includes a series of photographs and maps depicting the slow growth and development of the early downtown, as well as artifacts from the first businesses lining Main Street and the railroad tracks. The display shows tools from the first veterinary office, the first morgue services, items from Del Monte's cannery, Ryan's Hotel, Tao Tao's, the Kirkish store, and much more.
This exhibit opened June 30th and will run through October 20th.
Holiday Teas – December 7, 8, 13, 15, 2019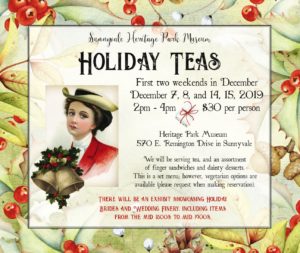 A formal, Victorian tea will please and delight all your senses. Come and enjoy assorted tea sandwiches and sweets complete with all the trimmings.  Space is limited, so you must reserve in advance. Call 408-749-0220 or come by the museum store when it is open (Sunday, Tuesday and Thursday, 12-4 pm) to reserve your space at a table.  Messages are checked twice a week.
Click Here for 2019 Holiday Tea Flyer
Museum's proposed Lockheed / Blue Cube Exhibit and Sunnyvale Research Library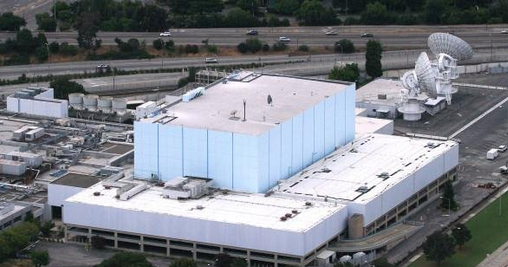 The mission of the Sunnyvale Historical Society is to preserve, teach, and protect items pertaining to the history of our community. The Museum is looking to expand in order to build a much-needed historical research library and create a permanent exhibit on the Blue Cube and Lockheed Missile programs – both important parts of Sunnyvale history as well as national history. Please contact the museum if you have mementos or stories to share.
The Sunnyvale Historical Society and Museum Association has taken into consideration how this project may temporarily impact Orchard Heritage Park. The Orchard, located next to the Heritage Park Museum, is respected as a valuable part of the community and Sunnyvale's living history. Preserving the integrity and heritage of The Orchard Heritage Park, and maintaining the ten-acre site is important to The Sunnyvale Historical Society, so it can also be enjoyed by many generations to come. The 1600 sq. ft addition may impact 6 to 10 apricot trees, all of which will be replaced in other areas of the orchard. There will be no net loss of trees.
Entryway Construction Completed
A new, grand entrance has been created to welcome visitors to our museum building. Click Here to see the 2018 demolition and remodeling  photos.
Past 2019 Events
September 28, 2019 – Anniversary Celebration
Photos coming soon!
June 10, 2019 – General Meeting: California's Historic El Camino Real Bells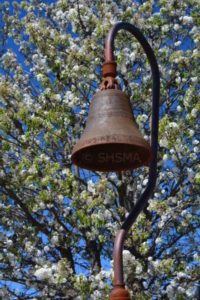 After the business section of the General Meeting, our guest speaker, John Kolstad, gave a talk on the history of El Camino Real, as well as the history of the bells, how the bells are made, and the fascinating story of how the California Bell Company (originally founded in the 1900s) was brought back to life. The plan had been to place one bell along each mile of the highway called El Camino Real, in front of each mission, and also at selected historical landmarks. By 1913, the goal of placing 450 bells was reached. One bell was placed in front of each mission and the balance were placed along the El Camino Real highway. Since then over 586 bells have been replaced on the 101 highway. The bell gracing the new entrance to the museum is dated 1906. It was originally placed on El Camino Real near Mary Avenue in Sunnyvale.
Kolstad is the owner of the California Bell Company. For more information go to www.saratogahistory.com or call 408-867-4311.
April 27-28, 2019 – Spring Victorian Teas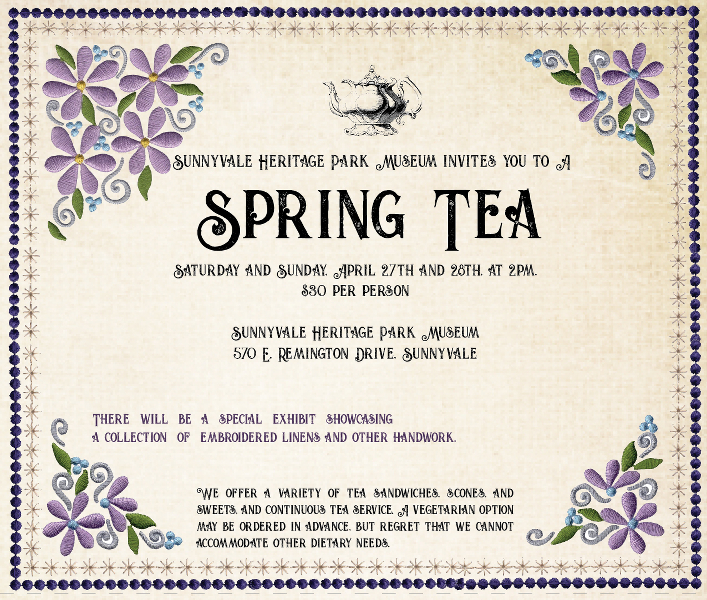 April 6, 2019 – Spring Garage Sale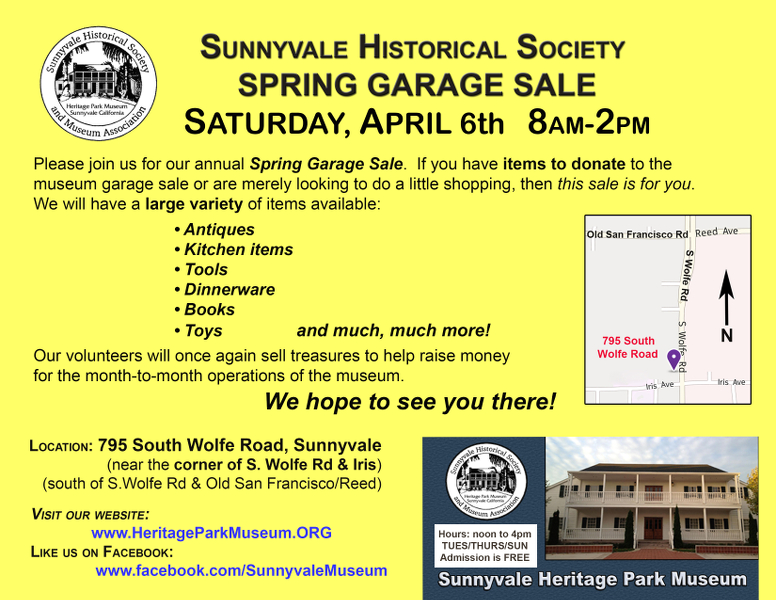 February 11, 2019 – General Meeting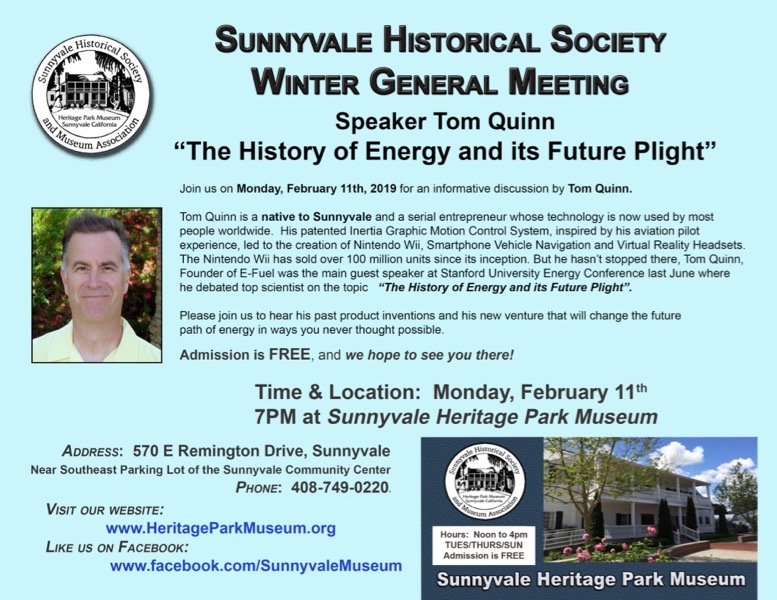 Winter 2019 Special Exhibit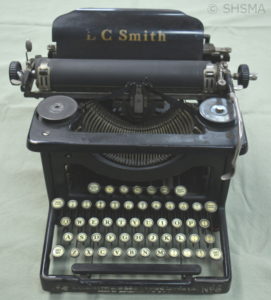 Our upstairs rotating exhibit this winter was, Communications before Technology.  Much of the technology being developed here in Silicon Valley is all about communication: instant, distributable to the masses, easy. But how did people wish one another a happy birthday or let their family know that they would be visiting soon fifty, a hundred, a hundred and fifty years ago? The museum's new exhibit will answer those questions. You will see letters written by the Taaffe twins (Mattie and Molly, Elizabeth Yuba Murphy Taaffe's daughters) and learn how postal worker Joe Stanich hung Sunnyvale's outgoing mail pouch on a tall crane at Murphy's Station, the pouch to be grabbed by someone on the passing train. You will be able to refresh your memories of a Walkman, typewriters, a calculator that is NOT part of your phone, IBM punch cards, and much more!
Give the Gift of Membership
Your membership to the Sunnyvale Historical Society and Museum Association helps to support our daily operations.  Members Benefits include, our members-only Newsletter, special invitations to members-only events, and a 10% discount on Museum Gift Shop purchases.  You can become a member online (below) or come into the museum Gift Shop.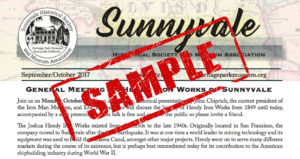 Click image to the left for a full-color example newsletter issue that you receive every month as a society member.
Members can decide to receive this full-color PDF via e-mail instead of via US Mail.  If this is a Gift Membership, add the recipient info in the Add a special message Section when completing the transaction on PayPal.
Orchard Heritage Park
In 1994, the City of Sunnyvale preserved 10 acres of apricot trees to celebrate the important contribution of orchards to the early development of the local economy. The museum opened next to the orchard in 2008. Click the photo for views of our apricot orchard throughout the year .
In Memoriam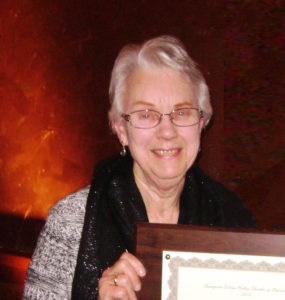 It is with great sorrow that we announce the
August 19, 2017 passing of Jeanine Stanek, the Sunnyvale Historical Society's Chief Archivist. Her dedication to history, her positive attitude, and her endless energy was an inspiration to us all. She will be greatly missed. Click Here for the Museum Director's memories of Jeanine.
Here is a photo from February 2014, of Jeanine receiving the 2013 Murphy Award for Lifetime Community Contribution.
Copyright © 2018 Sunnyvale Historical Society & Museum Association, Inc., All Rights Reserved